Go Back To All News
Site ceremony celebrates beginning of construction for Garry Station area K-5 school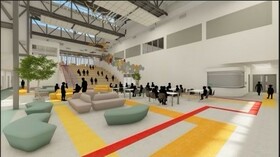 If you take a drive past 1350 Abitibi Road West, you'll notice some exciting activity taking place.
On this site, work is now underway on a new Kindergarten to Grade 5 elementary school for Lethbridge School Division students. 
A new 900-student westside school will soon be a reality. It will be the Division's first two-story elementary build since the 1950s, when Senator Buchanan Elementary School and Westminster Elementary School were both constructed.
"Construction has begun on the new Garry Station school and in just a couple of short years, students will begin classes in this new state-of-the-art building," said Pete Guthrie, Alberta's Minister of Infrastructure. "With 78 active school projects around the province in planning, design or construction, Alberta's government is securing our children's future by investing in new schools and modernized spaces, so students and communities can benefit for decades to come."
On Friday, Sept. 22, the Division will host a site ceremony in the Garry Station subdivision, to celebrate the next phase of this much-needed project.
"Lethbridge School Division is pleased to be celebrating the start of construction of the new school with the many partners who contribute to its planning and construction since it was first approved in the spring of 2021," said Christine Lee, the Division's Associate Superintendent, Business and Operations.
The Alberta government contracted the design-build team Ward Bros. Construction Ltd. to construct the school, while FWBA Architects will lead the design team.
The new elementary school in the Garry Station area will feature a 6,000 square metre structure, built for 900 students. When opened, the school will house approximately 600 students. It has been designed to take on 12 modular classrooms, some of which will be of the two-story variety.
The school will also feature a large gymnasium, thanks to support from the City of Lethbridge, which provided additional funding to upsize the gym. A large student drop-off zone will be another key feature for the school.
Additionally, the school will have a large staircase leading from the gathering space to the learning commons, which will provide a space from multiple functions for student gatherings, along with instructional or performance spaces.
The school is expected to be completed for the 2025/2026 school year.
Site Ceremony