Posted on:
Think Outside a collaboration between Division and Helen Schuler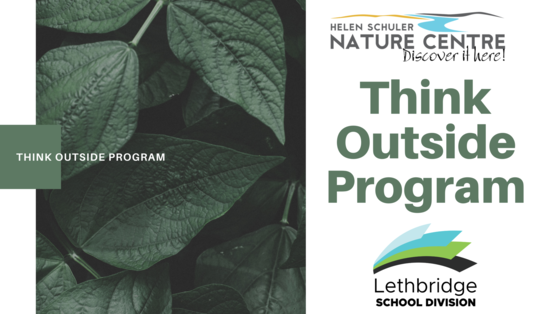 The Think Outside Program is ready to roll.
Parents are urged to make sure their Grade 6 and Grade 7 students are dressed for the weather, as learning will happen, rain or shine with the Think Outside" program at middle schools throughout Lethbridge School Division.
The Division has struck a partnership with the Helen Schuler Nature Centre, inspired by conversations with a few middle school teachers in the spring of 2020. At the time, teachers identified they wanted support to provide more learning opportunities outside involving movement, while also meeting curricular demands.  
The Division's middle school teacher of Indigenous Education, Shawnee Big Bull, along with Jessica Deacon at Helen Schuler, have teamed and co-planned to create lessons they will offer to teach to our Grade 6 and Grade 7 students throughout the year, hand in hand with their classroom teachers. 
This endeavour has been designed to enhance our middle school teacher's ability to access the outdoors while supporting core learning for their students. As we know, there are pressures from the pandemic for our teachers and students that going outside will help alleviate. 
This program will be at G.S. Lakie and Senator Joyce Fairbairn middle schools on Oct. 19-23, and then cycling through Paterson and Wilson the following weeks. Each class is offered two lessons in the fall and two lessons in the spring.
Students are reminded to make sure they have their toques, hoodies, mitts and whatever else keeps them warm.