Posted on:
Taylor Keith appointed vice-principal at Wilson Middle School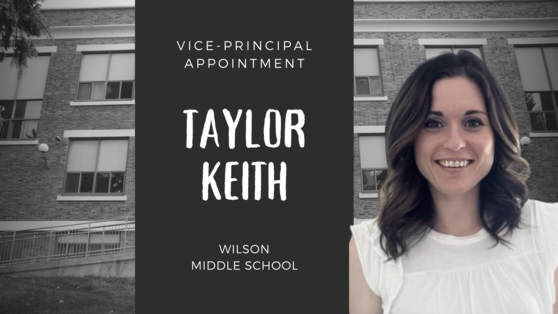 Lethbridge School Division is pleased to announce Taylor Keith has been appointed vice-principal at Wilson Middle School, commencing the 2023/2024 school year.
An energetic and forward-thinking educator, Keith will bring her passion for the middle school context into her new leadership role. Her leadership philosophy is centred around four pillars foundational to a positive culture of learning and growth for students: equity, quality instruction, teamwork and collaboration and continual improvement for student success.
Creating an equitable and inclusive learning environment for all students is important to Keith, and she strives to ensure student needs are met. Understanding the importance of a collective effort, Keith works collaboratively and proactively with parents, support staff and outside agencies to develop support plans and strength-based profiles. She also believes that using school data and student feedback are important tools in framing solutions and exploring alternatives.
Keith is committed to the whole student and understands the importance of school life beyond the classroom for middle school students. She has coached different sports and has acted as an athletic director. Her involvement in athletics and other out of school activities has helped Keith build relationships with students, staff, and families.
"I am honoured and thrilled to continue my journey at Wilson Middle School within my new vice-principal role," said Keith. "I have loved my time in this building and feel fortunate to continue to work, grow and learn alongside this wonderful community of students, staff and families. I am passionate about fostering genuine relationships and continually exploring multiple ways to support all our diverse learners. I am excited to support our school community in this new leadership role as we continue to strive for student success through innovation, collaboration and inclusive practices in a safe and caring learning environment."
Keith started her career at a rural K-12 school teaching grade 2/3 and serving as athletic director. She came to Lethbridge School Division in 2018 as a teacher at Wilson Middle School. Over the past year, Keith has also served as a Learning Support Teacher and acting vice-principal. She is passionate about Wilson Middle School community, and her experience provides her with solid grounding for her new role.
Keith graduated from the University of Lethbridge with a Bachelor of Science and Education. She is currently working on her Master of Education in Education Leadership with the University of Lethbridge.