Posted on:
Rebecca Hutchins appointed vice-principal at Wilson Middle School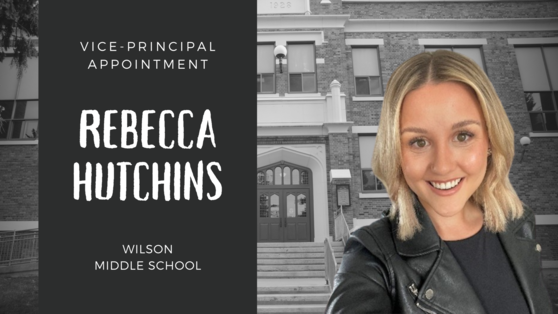 Lethbridge School Division is pleased to announce Rebecca Hutchins has been appointed vice-principal at Wilson Middle School, commencing the 2022/2023 school year.
An energetic, vibrant, and caring educator, Hutchins will be a valuable contributor as a leader to the culture of Wilson Middle School. She possesses strong skills in instructional leadership and anchors her work with others through conversation and collaboration. She believes that building strong relationships and understanding contexts is critical for working effectively with staff in support of growth and development.
Hutchins is a listener who models acceptance and embraces diversity. She views the challenge of the last few years as an opportunity to grow and find innovative ways to support students.  
Her three years of experience as a vice-principal in Chinook's Edge provided experience with overseeing Student Support Services, engaging staff in generative dialogue, leading Collaborative Response Teams, planning and delivering professional development, and utilizing evidence-based planning.
Her current role as Teacher Counsellor at Chinook High School has grown her knowledge in the counselling field as well as how to develop a more inclusive learning environment. Hutchins has extensive training in supporting social emotional development and meeting the learning needs of all students. She thinks beyond the typical and stretches to develop strategies that meet individuals where they are at respecting strengths and personal contexts. Hutchins works hard to break down barriers and marginalization that students and families face.
"It is with great excitement to be joining the team at Wilson Middle School as Vice Principal," said Hutchins. "I am honoured to be able to work at a dynamic school that ensures all learners find success. As Vice Principal I will continue to embrace the diversity and inclusive ways of Wilson. I am looking forward to connecting and supporting the staff, students, parents and community." 
Hutchins possesses a rich background in education that spans several roles. She has been a classroom teacher, Knowledge and Employability Coordinator, Students at Risk Teacher in an Outreach setting, vice-principal and teacher counsellor. She has a strong background in Inclusive Education and completed her Master in Counselling Psychology degree with Yorkville University.
She earned her Bachelor of Education degree with and Elementary Major and Special Education Minor with the University of Alberta. Students and staff of Wilson Middle School will benefit from her experience, energy and unwavering commitment to serving all students.