Posted on:
Rebecca Adamson appointed Inclusive Education Co-ordinator for Division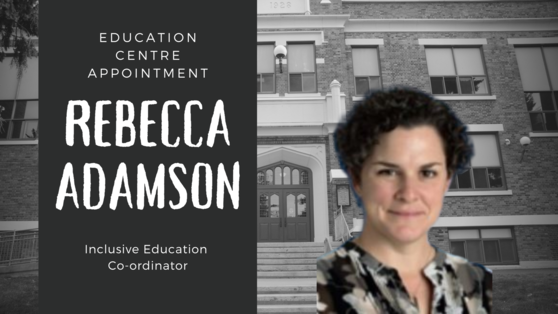 Lethbridge School Division is pleased to announce Rebecca Adamson has been appointed Inclusive Education Co-ordinator for the Division, commencing the 2021/2022 school year.
Adamson has demonstrated her strong commitment to Inclusive Learning throughout her career as an
educator and leader. Considered a master teacher, she is skilled in leading differentiated instruction
leveraging universal strategies that benefit all students. She possesses a deep understanding of the
learning supports students need to access curriculum as well as assessment practices that inform
instruction and support student success. Her teaching and leadership experience spans elementary,
middle and high school, providing her with a breadth of experience to understand the needs of schools
and students across the grades. Rebecca's leadership is characterized by supporting flexible and
responsive learning environments.
A strong believer in supporting growth and improvement, her leadership experiences provide a rich background for her new role including inclusive learning, fine arts, French Immersion, professional learning and ESL programs.
As a Division AISI lead teacher she created opportunities for professional learning, promoted innovation, and empowered school teams to support success among diverse learners.
"I am very grateful for the opportunity to support our students and staff as the next Inclusive Education Co-ordinator," said Adamson. "I am excited to work with staff across the Division in our commitment to support the growth and development of all students to the greatest degree possible."
Adamson is currently a Vice-Principal at Senator Joyce Fairbairn Middle School. She has also been a Vice-Principal at LCI. She has taught across all grades - elementary at École Agnes Davidson and Mike
Mountain Horse, middle school at Gilbert Paterson, G.S. Lakie, and Senator Joyce Fairbairn, and high
school at Victoria Park and LCI. She has worked as a sessional instructor at the University level and spent two years seconded supervising and supporting practicum students.
Adamson completed her Bachelor of Education degree from the University of Lethbridge majoring in
Modern Languages with a minor in Social Studies. She possesses a Certificat de Français École from
International de Français, Université de Québec à Trois-Rivièr. She earned her Master of Education degree with the University of Lethbridge with a focus on leading for teacher learning as part of her final project.