Posted on:
Ready, Set, Go! Back to School Fair helps students prepare for Sept. 3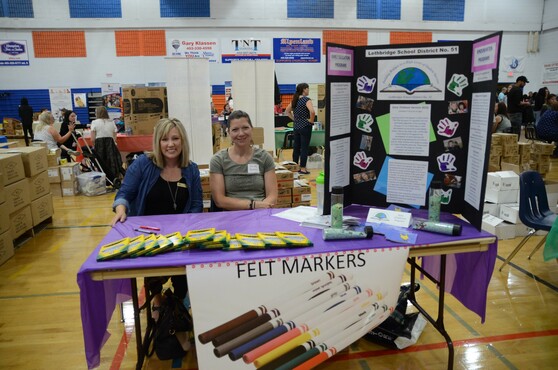 The Ready, Set, Go! Back to School Fair brought together a wide range of community organizations to help assist students in Lethbridge School Division and Holy Spirit Roman Catholic Separate School Division.
The fair, held Thursday at Winston Churchill High School, provided a wide range of back-to-school supplies and services to help students prepare for the big day on Sept. 3, the first day of school. 
Some amazing partners helped with this year's event, which included Daytona Homes, the Kinsmen Club of Lethbridge and the Knights of Columbus.
Runners Soul and New Balance facilitated Ready, Set, Go! in purchasing 664 pairs of runners for elementary students.
Shoe Warehouse facilitated Ready, Set, Go! in purchasing shoes for youth and shoe experts at the event.
Thomas Buchanan Photography provided photographs, Purely Inspired and High Maintenance Barber Shop assisted with haircuts and My City Care held a roving free clothing store at the event, in which families were able to get bedding, towels and clothes for school.
Winston Churchill High School were gracious hosts for the event, while the Lethbridge School Division Maintenance and Purchasing departments helped make the fair possible.
This year, the event supported 926 students across Lethbridge in receiving the supplies they needed to go back to school with confidence.
Ready, Set, Go!