Posted on:
New COVID-19 restrictions to stop the spike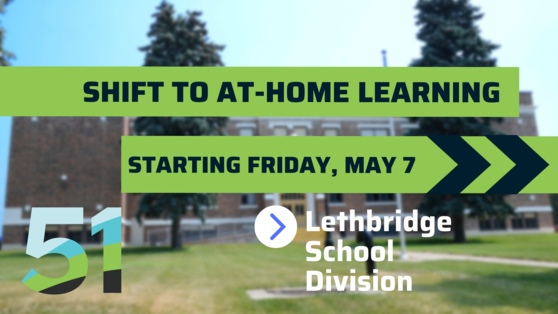 New mandatory health restrictions will help stop the spike of COVID-19 and protect the health system
All Kindergarten to Grade 12 students, and all Early Education Programs, will temporarily shift to at-home learning (Scenario 3), starting on May 7.
Students will return to in-class learning on Wednesday, May 26. Please note that Tuesday, May 25, is a previously-scheduled School-Based Professional Learning Day and as a result, there will be no school for students on that day.
As determined by schools, students with disabilities who require specialized supports and services (e.g. braille, American Sign Language, substantially modified programming, or the support of a multi-disciplinary team) to access learning will continue to attend in person.
"I want to thank teachers, school staff, parents and of course our students for their flexibility and efforts since the start of the pandemic," said Adriana LaGrange, Minister of Education. "The disruptions are difficult inside and outside the classroom, and this has been especially true with the recent rise of cases in the province. That said, if all Albertans do their part, this will be a temporary reset for our schools and we all can look forward to coming back to class later this spring to close out the school year."
To read a letter from Lethbridge School Division Superintendent, Dr. Cheryl Gilmore, which addresses the government announcement, please click this link: LETTER. 
Effective at 11:59 pm on May 9, all outdoor sports and recreation are prohibited, except with members of your household or, if living alone, two close contacts. This is a decrease from the current limit of 10 people.
This includes:
- all group physical activities, such as team sports, fitness classes, training sessions
- all one-on-one lessons and training activities
- all practices, training and games
All indoor sport and recreation is prohibited, including youth sports.
All indoor performance activity is prohibited, including youth performances.
All other public health measures remain in place, including masking and physical distancing requirements.
These measures apply to any region or community except those with fewer than 50 cases per 100,000 people and fewer than 30 active cases.