Posted on:
Modular classrooms being temporarily stored at Chinook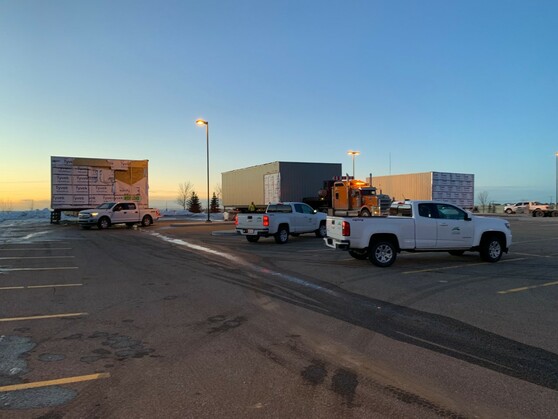 What's up with these buildings at Chinook High School? 
This week, three used modular classrooms arrived in Lethbridge and are being stored in the Chinook High School parking lot.    
Chinook was selected as it has the best space availability for temporary storage of the units. The Division was given the opportunity to accept these 10-year-old modular classrooms from a school facing demolition in Medicine Hat. These modular classrooms are being stored onsite at Chinook, pending final decisions on the best location at one or more west Lethbridge schools. These modular classrooms are welcomed to provide a bit of extra space needed in west Lethbridge schools. Once these classrooms are placed on a receiving school, they will be refreshed inside and outfitted, similar to other classrooms in the Division.  
The Division has requested new modular classrooms for Coalbanks Elementary, Dr. Probe Elementary and Chinook High School, under Alberta Education's 2021-2022 Modular Classroom Program, to address growth and capacity pressures.   
Notice of approved allocations should be received by February.  
The Division is still advocating for a new elementary school in the community of Garry Station to address growth and capacity concerns.