Posted on:
Mike Nightingale appointed superintendent for Lethbridge School Division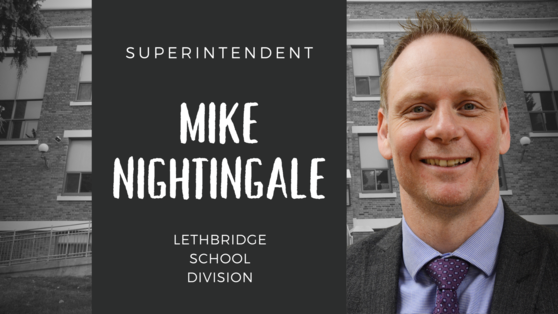 Lethbridge School Division is pleased to announce Mike Nightingale has been appointed superintendent for Lethbridge School Division, commencing the 2023/2024 school year.
The process of hiring a new superintendent for the Division began in February, as the Board of Trustees interviewed and hired a consultant. Feedback was sought from stakeholders regarding the candidate profile, and advertising went out Canada-wide.
"The Board was pleased with the quality and selection of candidates and was then tasked with the tough decision of selecting the candidate best suited for the Division," said Board Chair Allison Purcell. "Mike has committed to prioritizing the development of a concreate plan of action for the Division, along with an emphasis on developing and building strong relationships."
The Board Chair added Nightingale brings a number of qualities to the table, which will serve the Division well.
"Ensuring Indigenous Ways of Knowing are woven into what we do as a Division on a daily basis was also key," said Purcell. "Mike understands empathy is required for tough conversations, especially surrounding important issues the Division will face in the future, such as boundary decisions and transportation. He also comes with a mindset to ensure a culture is established, whereby every student is a fundamental part of the fabric of our Division."
Nightingale has served as a teacher, associate principal, principal and central office administrator for three school divisions over the past 23 years. He has been serving Lethbridge School Division since August of 2020 as Associate Superintendent of Human Resources.
He has a Bachelor of Arts Degree from the University of Calgary, a Bachelor of Education Degree from the University of Lethbridge and a Master of Education Degree from the University of Lethbridge.
Over the course of his career, he has been nominated for the Edwin Parr teaching award, recognized by the Alberta Teachers' Association for distinguished leadership and has served as Secretary and President for CASSIX.
"I am honoured and humbled to have the opportunity to serve Lethbridge School Division as Superintendent/CEO," said Nightingale. "I am grateful to be able to work alongside the Board of Trustees and our dedicated staff as we endeavour to ensure that every student is deeply cared for and has an exceptional learning experience that meets their unique needs. The students, staff and school communities that make up Lethbridge School Division are my greatest inspiration. I am incredibly excited for the journey that lies ahead!"
Nightingale is committed to creating authentic relationships with all members of the Division community. He is passionate about ensuring that students have a multitude of opportunities to fulfill their personal potential. He believes in creating an organizational culture that promotes genuine care for all, emphasizes empathy and is unwavering in its pursuit of growth and progress.
Nightingale enjoys spending time with his wife, Karrie, and his sons, Logan and Ryan. When he isn't spending time with his family, he enjoys being outside and is an avid mountain biker.