Posted on:
Kristin Solowoniuk appointed Executive Assistant to the Office of the Superintendent for Division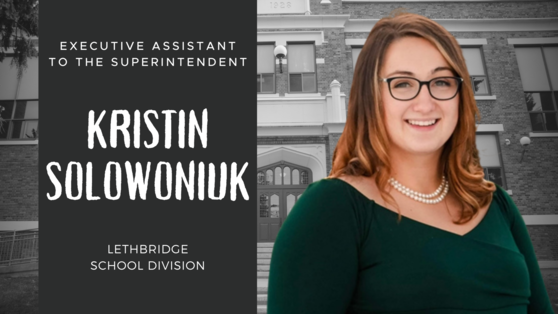 Lethbridge School Division is pleased to announce Kristin Solowoniuk has been appointed Executive Assistant to the Office of the Superintendent for Lethbridge School Division, commencing August of 2022.
Solowoniuk possesses a friendly demeanour, team mentality and desire to be in a role that makes a difference to the community and individuals she supports in the work context. Challenging goals are embraced by Solowoniuk, and she thrives in a busy, fast-paced environment.
She holds herself to a high standard and takes pride in producing quality work. Described by others as incredibly conscientious, positive, self-motivated and a strong supporter of others, she will be a great fit in the Education Centre.
Solowoniuk brings a breadth of experience to her new position. She has worked as an Event Co-ordinator with the Malaysia Canada Business Council, Operations Co-ordinator with PepsiCo Foods Canada, a Human Resources Co-ordinator with Rocky Mountain Equipment and more recently, as an Administrative Support to three Directors with Alberta Health Services.
Solowoniuk's strong belief in supporting community is reflected in her active volunteer experience, including work with International Students, tutoring English Language learners and supporting an animal foster home.
"I am very excited to begin my new role with the Lethbridge School Division," said Solowoniuk. "I have already received such a wonderfully warm welcome from everyone I've met and I am looking forward to meeting and working closely with all of you soon. I know I have big shoes to fill, but I am hopeful my presence on the team will be able to create an impact on both the community of Lethbridge and to the incredible work the Lethbridge School Division is doing day in and day out."
Solowoniuk has earned a Bachelor of Management from the University of Lethbridge with minors in Supply Chain Management and Social Responsibility. During her degree, she also obtained the Co-op designation and completed a work study in Malaysia, as well as a study abroad program in Ecuador.