Posted on:
Kerry Taylor appointed principal for Mike Mountain Horse Elementary School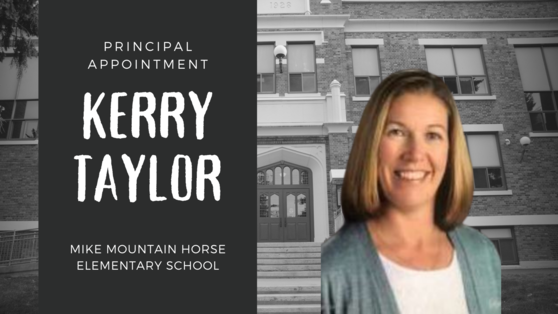 Lethbridge School Division is pleased to announce Kerry Taylor has been appointed principal for Mike Mountain Horse Elementary School, commencing the 2021/2022 school year.
Currently serving as Acting Principal at Mike Mountain Horse, Taylor is passionate about learning, growth and development. Her leadership as Vice-Principal and Acting Principal is characterized by an unwavering commitment to quality learning and teaching.
She possesses a deep understanding of curriculum and pedagogy. Taylor believes all individuals who are part of a school community are learners, and she strives to empower, inspire and support staff in the engagement of students. She believes in building critical thinkers through inquiry and her experience as a Learning Support Teacher and Learning Coach has built a strong
experiential understanding of inclusion in the classroom.
Taylor sees collaboration among staff, collective learning pursuits, and distributed leadership as key to creating a school with optimal capacity.
"It is an honour and a privilege to have the opportunity to be principal at Mike Mountain Horse
Elementary school and I look forward to continuing to learn, grow and support with the amazing
students, staff, families and community," said Taylor. "I strongly believe in providing the highest quality thinking and learning opportunities to support the engagement, interests and diverse needs of all students who attend MMH. I look forward to continuing to extend the exceptional teaching and learning opportunities that occur through project-based learning as well as continuing the work in literacy and numeracy. I look forward to embracing the existing school community, continuing to build meaningful relationships with students, staff and families all while working to build a vibrant, highly responsive school that supports the intellectual and emotional development of both students and staff."
An educator and leader at the elementary level for a number of years, Kerry's early work fell under the umbrella of Early Literacy Intervention. She also assumed the role of classroom teacher, Special
Education Facilitating Teacher, and Learning Support Teacher. A school leader for over 14 years, Taylor
has served as vice-principal at Magrath Elementary School, Raymond Elementary School, and Mike
Mountain Horse, and is currently acting principal of Mike Mountain Horse.
Taylor completed a Bachelor of Arts and Education majoring in English Language Arts and minoring in
Social Studies at the University of Lethbridge. She earned her Masters in Education, Language and
Literacy Specialization at the University of Calgary.