Posted on:
ICSS Eagles win 2A provincial volleyball championship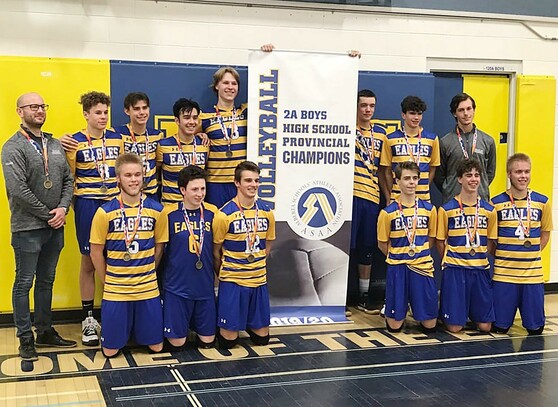 The Immanuel Christian Secondary School Eagles are the 2019 2A Boys Volleyball champions.
Immanuel earned the gold medal with a 25-16, 25-23 win in the championship match Saturday over Calgary Christian.
It marked the end of a successful tournament run for the Eagles, who also hosted the Alberta Schools' Athletic Association event.
The Eagles went 4-1 in the Gold Pool, and won nine sets in the process, to finish first in round-robin play.
Immanuel defeated OLMP by scores of 25-20, 21-25 and 15-9, and fell 22-25, 25-20 and 15-17 to Vauxhall. The Eagles took a 25-22, 27-25 win over Strathcona Tweedsmuir, defeated J.R. Robson 25-16, 25-16 and beat Rundle College 25-20, 25-17.
In the playoffs, Immanuel earned a bye into the second round, and defeated Taber St. Mary's in straight sets, to reach the final.
ICSS 2A boys volleyball provincials