Posted on:
Friends of 51 recognized during special event on Tuesday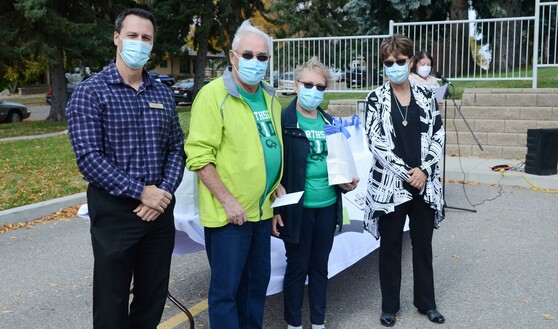 Friends of 51 is program intended to provide formal recognition to individuals or groups who, as determined by the Board of Trustees, have provided significant service or contribution to Lethbridge School Division.
The Board is grateful that individuals and groups in the community continue to go above and beyond in supporting schools with a breadth of contributions ranging from financial support to expertise and services, to time and commitment.
On Tuesday afternoon, the recipients below were presented with a gift of acknowledgement for their contribution, during a special event outside the Education Centre.
Please see the video below from Tuesday, along with the complete list of Friends of 51 and photos from the event.
- Evangelical Free Church
- Barry and Terry Bannerman
- Lethbridge Family Services
- Lethbridge Police Services
- United Way Lethbridge
- Panago Pizza North
- University Drive Alliance Church
- Save on Foods North
- Lethbridge Food Bank
- Cobs Bread
- My City Care
- Baker's Appliances
- Staples
- Best Buy
- Shane and Allison Roest
- Luke Davis, Subaru of Lethbridge
- Vishal Sukhadiya, The Medicine Shoppe Pharmacy
- Lethbridge Sunrise Rotary Club
- Ricky Sharma, Davis Dodge
- Darren McFadden, Lethbridge Honda Centre
- Bert Faulkner, Westside Community Church
- Immanuel Christian Lutheran Church
- Courtney Ylioja (Cut & Dried Coatings Ltd.)
- Cory Medd, 2 Guys Pizza
- Tim Day, TIMCO Hoists
- Chad Dorren, BJD Electric
-Shelley Shaw, Shelley Shaw Professional Corp.
- Sean Andrews
- Jeanna Gabriel, Fee Simple Law
- Darci Campbell, Jetz Carwash
- Justin & Stephanie Myer
- Brent & Shannon Francis, Brent Keith Francis Professional Corp.
- Courtney & Rob Edmonds, Prairie Source Trading Ltd.
- Don Cheung & Bora Kim
- Scotty & Ashley Fabro
- Shaw Communications Ltd.
Friends of 51