Posted on:
Fleetwood recognizes students with Marcus Karpati Memorial Award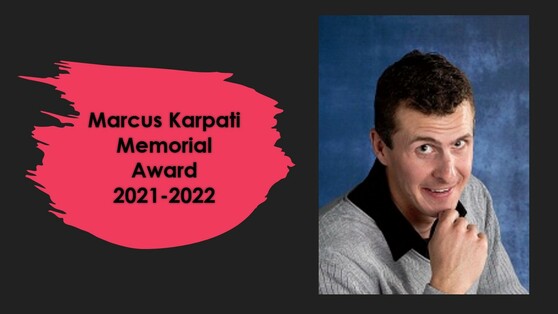 Marcus Karpati was a valuable member of the Fleetwood Family.
At the school, Karpati taught Grade 1, 2, 4 and 5, and took on each assignment with a desire to succeed. He approached every challenge head on and with the determination learned throughout his life playing competitive soccer.
"If he met a problem that stopped him in his tracks, he persevered with the goal to learn something new along the way and always bettered himself as a teacher and as a human being," said Fleetwood principal Jackie Fletcher. "Marcus and I taught next door to each other and taught each other's classes for phys ed and French."
Karpati's life was cut short in 2014 after a courageous battle with cancer but his legacy, at the school where he began his teaching career, will live on, thanks to the Marcus Karpati Memorial Award.
On Friday morning, during a special assembly, Fleetwood-Bawden Elementary School honoured the very first recipients of the award, and paid tribute to a man who touched so many lives.
"Marcus brought joy and fun to our school each and every day," said Fletcher. "He is a beloved and special member of the Fleetwood Family for all that he brought to our school and for what he taught our students and staff - work hard, don't give up, help each other and have fun while you're at it."
Karpati's parents made the trip from Calgary to attend the awards presentation, as two Fleetwood students that represent the qualities Karpati stood for were recognized.
The award aims to honours students who demonstrate kindness, compassion and empathy for others, and approach each and every day with a positive attitude, resilient nature and a willingness to work hard. Along with that, the award seeks to recognize students for being dedicated to what they do and do everything with joy and with a desire to have fun and strive to do their best in both academics and athletics.
The 2022 winners were Vidya Stannard and Sadie Hubbard.
Stannard was described as joyful, welcoming and a valued member of their classroom community, who demonstrates kindness and compassion for others and exudes respect for all.
"To summarize this student, we would use the words determined, caring and excited to learn," said Fletcher. "I can say without a doubt that Mr. Karpati would have been so proud of you."
Hubbard is known her unbridled willingness to step up to help others, and seek ways to be a helpful, kind and caring friend. Within the classroom, Hubbard student consistently demonstrates the values of a great leader.
"Whether it is on the soccer field, the dojo or while riding horseback, this student is determined to learn and grow always," said Fletcher. "Mr. Karpati would have been proud of your hard work."
Each student received a plaque and a gift card to be put towards the purchase of athletic attire or equipment.
Marcus Karpati Memorial Award