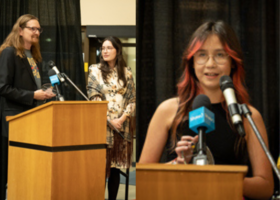 Two staff members from Chinook High School and a student form G.S. Lakie Middle School were honoured on Sept. 25 by the City of Lethbridge's Reconciliation Lethbridge Advisory Committee.
Chinook's Duane Piper and Marley Heavyshield took home the Education Award at Monday's inaugural Reconciliation Awards evening in City Hall.
Piper and Heavyshield have spent the last few years developing and growing an initiative called the Blackfoot Word of the Week. What started as a way to acknowledge Indigenous language at Chinook High School has become something that has Facebook followers from around the country, sharing the Blackfoot language far and wide, and thereby creating a safe and welcoming space for the school's Blackfoot students.
The video series now features notable Canadians from Chris Hadfield, Clara Hughes, local, provincial and federal politicians (including the Prime Minister, leaders of the Opposition and Lethbridge City Councillors) to the Calgary Flames and Edmonton Oilers, skateboarders and musicians.
Lakie Grade 6 student Rae Marie First Charger won the Youth Award.
An active community member, First Charger is a multi-sport athlete, participating in boxing, figure skating, skateboarding, running and cycling. She takes pride in her traditional ways as a fancy dancer and jingle dress dancer, competing in many powwows.
She danced in the opening ceremony of the 2023 Alberta Indigenous Games and won bronze in the age 8-11 open category in skateboarding. First Charger was part of Rock Camp where they formed a band, wrote their own lyrics and created an original song. She played guitar and sang.
First Charger also participated in 2023's Go Skate Day and Indigenous Peoples Day in Lethbridge.
First Charger's father, Husky, was also featured in a recent Blackfoot Word of the Week video.