Posted on:
Division schools participate in Faceless Dolls Project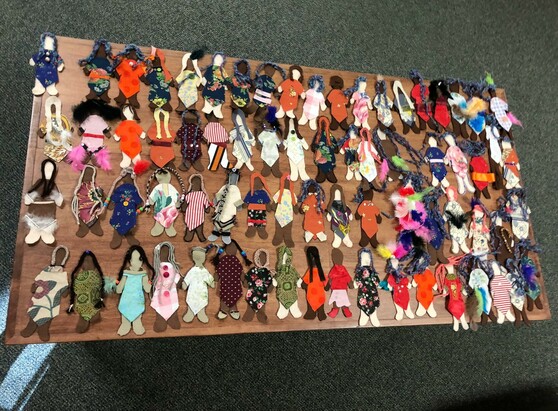 Four Division high schools had the opportunity to work on a unique project this week.
Lethbridge School Division's Indigenous Education Team facilitated the presentation and creation of the MMIWG2S & NWAC Faceless Dolls Project in classes at Victoria Park High School, Lethbridge Collegiate Institute, Winston Churchill High School and Chinook High School.
"Jenna Jewison and Melanie Morrow did a wonderful job reaching out across the Division to see who would be interested in having a facilitation done," said Amelle Weasel Fat, Indigenous Grad Coach Liaison at Victoria Park. "They also went above and beyond the call of duty preparing the material kits on such short notice."
Weasel Fat added students, staff and school administrators had only positive comments to share in relation to the impact the project had with our students.
"Students were so very respectful, became engaged and expressed interest furthering their own scope of knowledge," she said. "I'm so very proud of the work that was done-- this was a perfect example of teamwork. We were tasked such short notice with creating something meaningful and sharing full heartedly with our students, while adhering to COVID measures and restrictions to protect our staff and students."
Grad coaches engaged in research (MMIWG2S), collaborated on the presentation, facilitated together (two grad coaches in each class) and assisted students in the creation of their dolls when needed.
"We talked about the power of the project, the meaning of intent and how students were actively engaging in reconciliation," said Weasel Fat.
On Wednesday, Indigenous students from Victoria Park helped assemble the dolls on a three-inch red ribbon, as they will be brought to the Sisters In Spirit Vigil on Monday Oct. 4.
"I am really proud of this project and our team," said Weasel Fat. "I am especially proud of our student's work. It is very powerful."
At WCHS, Indigenous Grad Coach Liaison Juliet Toledo used the project as a way to open up meaningful conversations.
"I am working on a permanent space within our school to display this project, as well as the Orange Shirt project that has been going on throughout these last few weeks," said Toledo. "My intent is to create opportunities for dialogue within our school community all year long - not just one day. We are still putting together the display and it's a work in progress that I want to give our students time to complete."
For more information on the Faceless Dolls initiative, please click on the link below: