Posted on:
Chinook students sew pouches for Australian wildlife injured in fire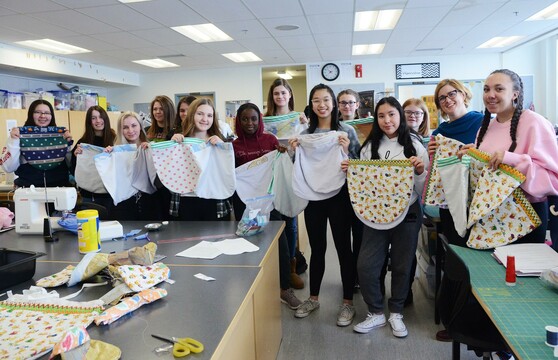 By Garrett Simmons
Communications Officer
Lethbridge School Division
Wildfires in Australia have had a devastating impact on the country's wildlife population.
Donations have poured in from across the globe, as individuals and organizations look to assist in the recovery efforts. Southern Alberta is no different, and one high school has taken the cause to heart.
Deanna Brouwer, Fashion Studies teacher at Chinook High School, has teamed up with the Canadian Animal Rescue Craft Guild to help Australian animals impacted by the fires.
"They look for items to use to help animals that have been rescued," said Brouwer.
About 40 students, across different grades at Chinook, have spent the last few days creating pouches for baby kangaroos and wallabies. Work got underway last Friday, and wrapped up Tuesday, as the last pouches were sewed together. The items will then be washed and properly labelled before they are shipped off to a distribution hub in Calgary.
"I just thought it was something we could do to teach students how to sew," said Brouwer, who added she always looks for community projects her students can contribute to. "The kids are excited to do it."
About 50 pouches were created in total.