Posted on:
Chinook students partnering with LMT for production of Newsies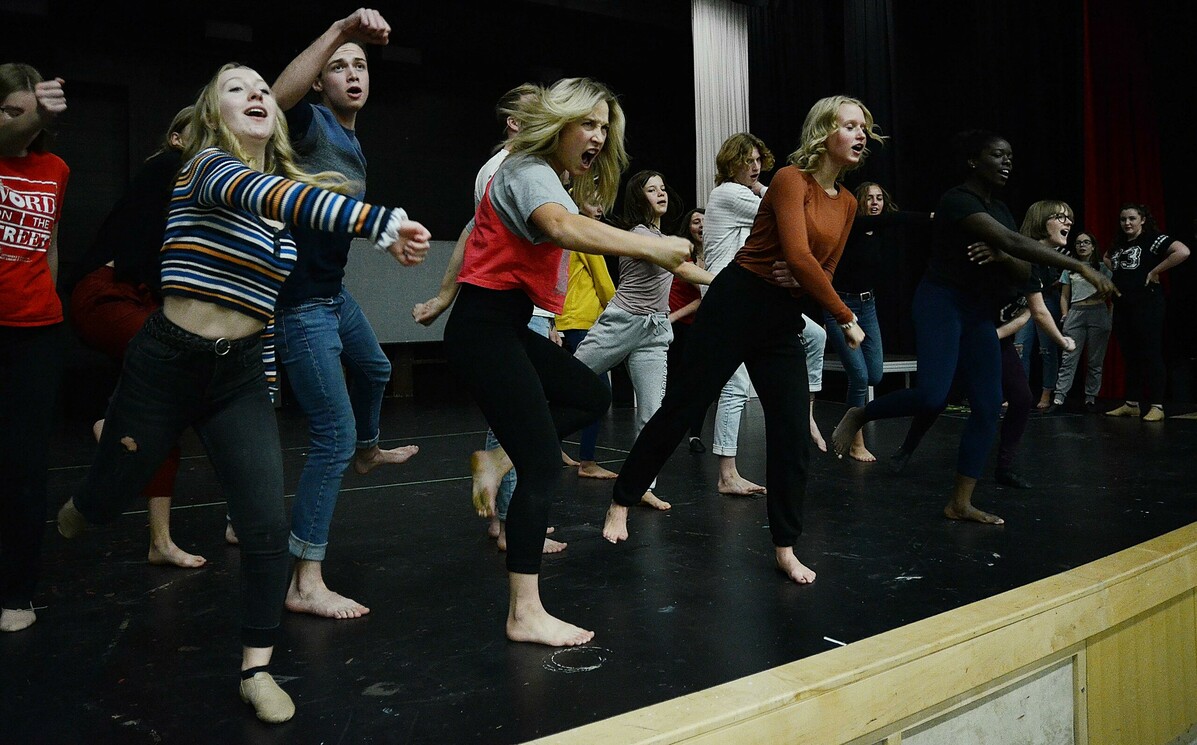 By Garrett Simmons
Lethbridge School Division
Communications Officer
Lethbridge Musical Theatre is back, and Chinook High School's talents students are playing a large role in that resurgence.
Chinook and LMT are putting their collective efforts together for a unique November production. Students are well into rehearsal for a co-production featuring Chinook High School's Music Theatre Studies 15/25/35 class and community performers from LMT.
"This project is unique," said Chinook High School musical theatre teacher David Mikuliak. "It features a collaboration between a school and a community organization. It is the first main stage production LMT has been a part of in four years and marks a return or relaunch of a historic company within our city."
LMT's Stephanie Savage added the theatre group is looking forward to the collaboration with Chinook students.
"Lethbridge Musical Theatre is excited to work with the talented students and staff at Chinook High School," she said. "When Dave first came to the board with the idea of this joint venture, it seemed like a no-brainer. It was an incredible way to share community resources in a way that is educational, practical and exciting. Then, when Dave suggested Newsies, it was an immediate, yes. The storyline has mass appeal, the music is fantastic and it is a show that the whole family can enjoy."
Savage added Chinook students will certainly add an element to the production.
"The talent during auditions, from both the community actors and the students, was amazing. It showed that Lethbridge's talent and passion for musical theatre is alive and well. Every member of the final cast is going to knock crowds' socks off. When you watch them on stage, it's hard to believe that over half the cast is still in high school."
Melding the resources of Chinook and LMT has been critical in getting Newsies off the ground, according to Savage.
"This unique partnership benefits both the students, Lethbridge Musical Theatre and the community. The students have an opportunity to learn from some of Lethbridge's veteran performers, the adult cast members get inspired by the energy of the students and the community gets to experience some amazing theatre."
It is also Savage's hope the partnership with Chinook will breathe new life into LMT.
"It has been a few years since LMT's last main stage show, and we couldn't think a better way to share our new direction with Lethbridge. This is a new generation of LMT and this partnership is the perfect way to show that to the community."
Jason Jensen, president of LMT, added the initiative is all about building on to the theatre community in the city.
"One of the core ideals of Lethbridge Musical Theatre has always been to provide an opportunity and a place for members of the community to perform on stage, or to work in technical theatre, and most importantly, to become part of a family. Given that, I can't think of a more fitting way to make our return to The Yates main stage than to do it in partnership with Chinook High School. The energy these kids bring to the table is amazing, and I love that we have this chance to get the next generation of theatre-loving kids involved in a large-scale LMT production. Hopefully, they enjoy the experience, and stay involved, long after they graduate high school."
Newsies - The Musical, based on the 1992 musical film Newsies, is set to debut Nov. 1 at the Yates. Shows will run Nov. 1, 2, 3, 7, 8 and 9 at 7 p.m. inside The Yates. Shows will also take place at 2 p.m. on Nov. 2, 3 and 9.
Tickets are $22.50 for students and seniors and $27.50 for adults, and can be purchased at www.enmaxcentre.ca or at 403-329-7328. Tickets can also be purchased in person at The Enmax Centre or The Yates box offices. There is an early-bird deadline of Oct. 16, as every ticket purchased prior to that date will be $5 off.
Chinook Music Theatre Studies - Newsies