Posted on:
Academic awards for 2018/2019 handed out at Chinook High School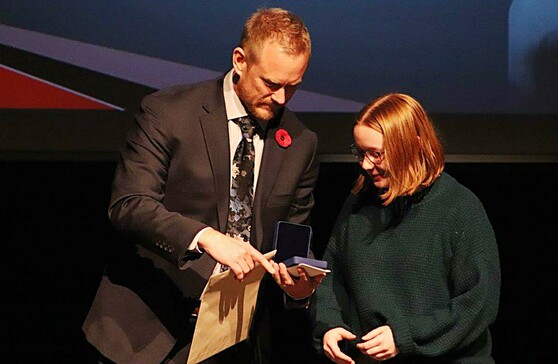 On Monday night, Chinook High School handed out academic awards for the 2018/2019 school year.
The following is a complete list of award winners, broken down by category.
Career and Technology
1. Construction Technology 10 - Jayden Gurney
Construction Technology 20 - Ben Townley
Top student in Construction Technology 30 - Bryce Gallup
Fashion Studies 10 – Jorja Evans
Fashion Studies 20 - Samantha Steynen
Fashion Studies 30 - Dante Vadnais
Financial Management 10/20/30 - Ethan Hunt and Raheem Mir
Media Design 10/20/30 - Madison Lenton and Isaiah Mason
Foods 10 - Madison Bronk
Foods 20 - Amy Krywolt and Lily MacCormack
Foods 30 – Megi MacKenzieand Katelin Schwanke
Robotics - Brandon Peterson and Nole Richardson.
Second Languages
French 10-3Y - Sydney Whiting
French 20-3Y - Sydney Whiting
French 30-3Y - Karen He
Spanish 10 - Shae Rasmussen
Spanish 20 - Sitara Wijesinghe and Vlad Zaitsev
Spanish 30 - Tara Anvik and Madeline Ukrainetz.
Physical Education
Physical Education 10 - Jayden Gurney and Brantley Saar
Physical Education 20 - Taylor Althouse
Physical Education 30 – Uvindu Abeysekara and Abigail Gruenhage
CALM 20 - Maddy Patrick, Eliza Poettcker and Michaela Warren
Sports Performance 10 - Brantley Saar
Sports Performance 20/30 - Abigail Gruenhage.
Grade 9 Awards
English 9 - Trinity Ramos
Math 9 - Hannah Enkirch
Phys Ed 9 - Rylie Caldwell
Science 9 - Nicholas Yagos
Social 9 - Josephine Dunn
Grade 9 K + E -Gabby Hartgerink.
English
English 10-1 - Sydney Whiting
English 10-2 - Luke Garstad
English 20-1 - Taya Bennett
English 20-2 - KailynnBrown
English 30-1 - Tara Anvik
English 30-2 - MallayPhillips
ESL - Madhan Ghimire.
Social Studies
Social Studies 10-1 - Ava Carter and ManrajPannu
Social Studies 10-2 - Grace Dingreville
Social Studies 20-1 - Zachary Robinson
Social Studies 20-2 - TreeceKitagawa
Social Studies 30-1 - John Anvik
Social Studies 30-2 - MacallumDorchak
General/Personal Psychology 20 - Elizabeth Kauffman
General/Personal Psychology 30 - Kimberly Tetrault
Legal Studies 10/20/30 - Emily Fluellon and Alissa Hansen.
Science
Science 10 - Linda He
Science 20 - Breanna More
Science 14/24 - James Schwartz
Science 30 - Mia Keller
Biology 20 - Linda He and Eliza Poettcker
Biology 30 - Karen He and Asha Tannis
Chemistry 20 - Taya Bennett
Chemistry 30 - Darren Patel
Physics 20 - Zachary Robinson
Physics 30 - Malek Abu Omar.
Mathematics
Mathematics 10-3 –J ewel Vandersteen
Mathematics 10C - Benjamin Hall & Denver Jensen
Mathematics 20-1 - Henry Bain
Mathematics 20-2 - Cadence Clark
Mathematics 20-3 – Indyana Isfeld
Mathematics 30-1 - Malek Abu Omar
Mathematics 30-2 - Tara Anvik
Mathematics 30-3 – Megi MacKenzie
Mathematics 31 - Riley Chiew and Liam Doyle.
Fine Arts Awards
D.R. Yates Fine Arts Award – Nole Richardson and Kaitlin Carter.
Excellence Awards
Awarded to students with the highest academic standing in Grade 12.
Awarded to:
- Malek Abu Omar
- Eman Ali
- Tara Anvik
- Jaron Baker
- Abel Belay
- Emily Bright
- Riley Chiew
- Zaynab Enayetullah
- Tabitha Gangur-Powell
- Karen He
- Sariah Hurd
- Mark Lea
- Darren Patel
- Connery Pateman
- Ethan Prawdzik
- Madeline Ukrainetz
- Mackenzie Van Doorn.
Combined Awards
Anna Best Marshall Memorial
This scholarship is awarded to students with the highest academic standing and who have been involved in their school and the community.
Awarded to:
- Karen He
- Eman Ali
Grace Dainty Memorial
These scholarships are awarded to Grade 12 students with the highest academic standing.
Awarded to:
- Malek Abu Omar
- Tara Anvik
- Emily Bright
KPMG-LLP - Knowledge and Employability Award
Awarded to a student enrolled in Knowledge and Employability course(s) who exemplifies the dedication to succeed in their studies and beyond.
Awarded to:
- Andrew Schwartz and James Schwartz
Calder Student Advocacy Award
Awarded to a student leader whose efforts engage fellow students to improve their learning experience in high school. This leader maintains their academic standing while serving in the best interests of student education.
Awarded to:
- Amy Kim
EEE Award President's Award (HSRD)
Awarded to the grade 12 student who best embodies the spirit of Inspiring Education's Ethical Citizen, Engaged Thinker and Entrepreneurial Spirit.
Awarded to:
- Emma Noonan
1st Choice Savings Star Citizen Award
Awarded to a student for dependability, cooperative spirit, leadership, service to Chinook High School and community and evidence of personal values and integrity.
Awarded to:
- Nole Richardson
Governor General's Award
For more than 125 years, the Governor General's Academic Medals have recognized the outstanding scholastic achievements of students in Canada. They are awarded to the student graduating with the highest average from a high school, as well as from approved college or university programs. A BRONZE medal is awarded to the student who achieves the highest average upon graduation from a secondary school.
The average includes all Grade 11 and Grade 12 courses as listed on the student's official Transcript of Grades issued by the ministry of education. The average cannot be anticipated. It must be calculated based on final results after provincial/territorial examinations, where the ministry of education requires final exams.
Awarded to:
- Emily Bright.
Chinook academic awards