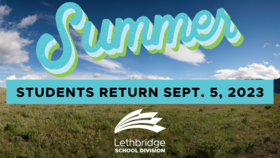 For the 2023/2024 school year, students are set to return on Tuesday, Sept. 5.
School offices opened to the public on Wednesday, Aug. 23.

SCHOOL START UP
Check your school website to find the schedule for the first two days. Please note, student entry for the first two days may be staggered. School supply lists can also be found on The list of Division schools, and the school contact information, can be found here: SCHOOLS.

NEW TO LETHBRIDGE?
Students new to Lethbridge or new to the Division, must fill out a registration form, which can be found here: NEW STUDENTS. New students may also register in person. 

SCHOOL BUSSING
Need to know what school is your designated school? Information on our school boundaries can be found here: BOUNDARIES. 
For information on school bussing, please see the Division's Transportation page. Please note, bus routes for 2023/2024 have been posted here: TRANSPORTATION.
Students should be at their stops 10 minutes prior to bus departure times and waiting outside, and not in vehicles. Please have your child wait until the bus comes to a complete stop, before running/walking to the door. Registration, address changes and student file information need to be directed to the school or school division. 

BEFORE AND AFTER SCHOOL CARE OPTIONS
Please see the It's a Blast website for more information: IT'S A BLAST.
Please see the Boys and Girls website for more details: BGC LETHBRIDGE.
Please see the YMCA of Lethbridge website for more information: YMCA.

EARLY EDUCATION
For more information on Early Childhood Services, please click on the following link: EEP.

2023/2024 CALENDAR
To learn more about all of the important dates for the new school year, please download the official 2023/2024 calendar here: CALENDAR.