Posted on:
Division Associate Superintendent, HR, Rik Jesse announces his retirement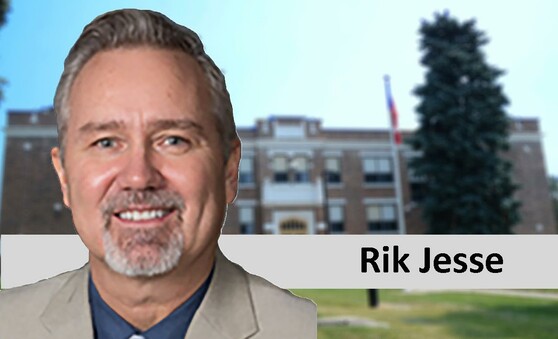 Congratulations and best wishes to Rik Jesse, who has announced he will be retiring near the end of this summer.
Jesse is closing his distinguished career in a position where his strengths as a leader came to the forefront supporting staff in a manner that provided them with the opportunity to flourish. Renowned for a "people first" approach to all that he does, he has consistently established a climate that is imbued with tireless commitment to innovation and change that supports others, and an unwavering moral imperative to doing the right things for the right reasons.
For the hundreds of staff Jesse has touched over the years in his various leadership roles, he is known for his approachable manner, easy smile, sense of fun, energy and quick wit. For the thousands of students that were impacted by this passionate educator, school leader and coach, he is known for his attitude for doing whatever it takes to support their success and well-being.
Intuitive, talented and a learner to his core, Jesse seamlessly transitioned across different roles that demanded entirely new sets of knowledge and skills. The common denominator was the attribute of putting others before himself and gaining satisfaction by seeing those he worked with succeed.
Jesse started his 32-year career in Lethbridge School Division as a junior high school teacher at Gilbert Paterson. He spent several years teaching at Wilson Middle School and Winston Churchill High School and assumed his first leadership role as an assistant principal at Churchill.
Jesse is known for his student-centred approach to all that he did in the schools he served, including coaching volleyball and assisting with whatever needed to be done to enrich students' experiences. He spent some time at the Education Centre as a Technology lead teacher followed by assistant principal and vice-principal designations at Chinook High School.
Jesse returned to the Education Centre as the director of technology, and assumed his current role as Associate Superintendent, Human Resources in 2017.
"As many of you know, I'm a proud product of Lethbridge School Division, attending Galbraith, Westminster, Wilson and Winston Churchill," said Jesse. "I fondly remember the many amazing teachers whose classes I attended. Throughout my career I've done my best to aspire to their greatness. I will certainly miss my incredible colleagues and will forever cherish the laughter that we have shared. My passion for learning will continue, although it may look a little different as I sit poolside enjoying a late morning coffee. Thanks for the many wonderful memories."
Jesse is never one to sit still and be satisfied with status quo. There is no doubt that his retirement will be rich with time to be with his family, investment in new pursuits and following passions.