Posted on:
Wish trees planted throughout Lethbridge School Division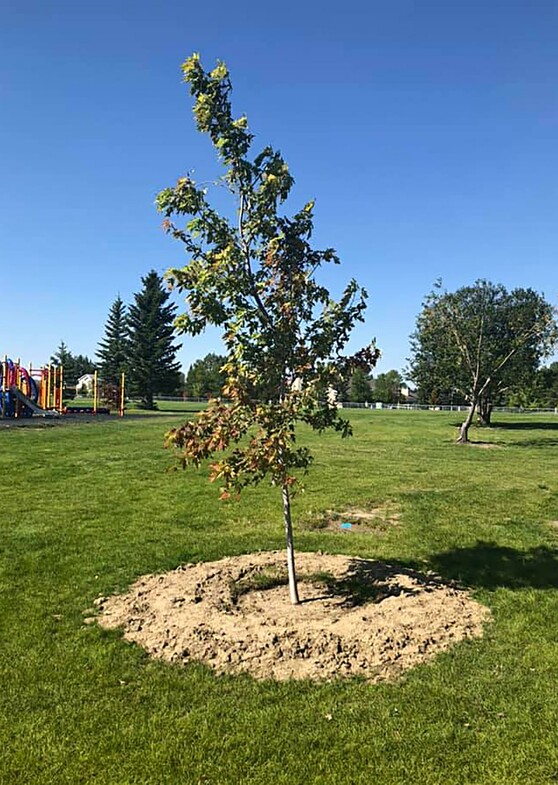 The One District One Book initiative during the 2019/2019 school year was something never before attempted in North America.
For the first time ever, every student, from Kindergarten to Grade 12, received the same book to read at the same time.
Wishtree, by Katherine Applegate, was selected for the one-of-a-kind project. The 1D1B initiative featured a wide range of events throughout Lethbridge School Division.
Now, as a new school year has begun, every single school across the division has received a permanent reminder of the 1D1B experience.
Over the course of the summer, the division's Facility Services team was busy planting silver maple trees on the grounds at every school. A tree was also planted at Paradise Canyon, in honour of Ron and Joyce Sakamoto's financial contribution to the project.
For the 1D1B committee, the trees symbolize the Wishtree, and the special day of May 1, Wishing Day. The hope is the trees will have an impact for generations to come.
Silver maples planted at each school will also be complete with plaques, with a dedication written by author Katherine Applegate to commemorate the project. Most importantly, the plaque will convey a message of welcome and hope for all.
The draft of text for the plaques is in the process of being complete, and the plaques should be installed before winter arrives.
The plaques will read: A WishtreeCommemorating 2019 One District One Book LethSD51Wishing Day May 1"For newcomers and for welcomers. A community can never have too much compassion or too many trees." By Katherine Applegate
For members of the division's 1D1B committee, the silver maple tree-planting project is the culmination for what was a fantastic journey last year.
"We can't be thankful enough for all the support from the division," said 1D1B committee member Catherine Thorsen, about the work staff put in throughout the summer planting the trees. "It's about community building, what trees bring to all of us and the symbolism behind the tree and the book."