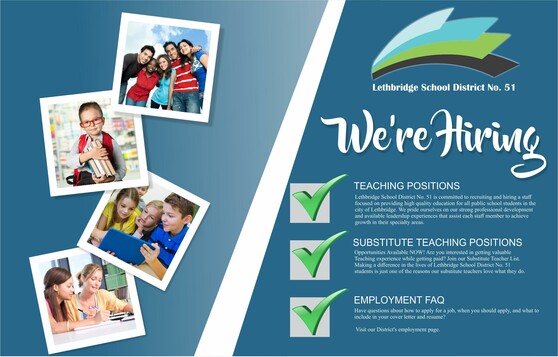 Have questions about how to apply for a job, when you should apply, and what to include in your cover letter and resume?
Visit our District's employment page for our latest postings.
TEACHING POSITIONS
Lethbridge School District No. 51 is committed to recruiting and hiring a staff focused on providing high quality education for all public school students in the city of Lethbridge. We pride ourselves on our strong professional development and available leadership experiences that assist each staff member to achieve growth in their specialty areas.
SUBSTITUTE TEACHING POSITIONS
Opportunities Available NOW! Are you interested in getting valuable Teaching experience while getting paid? Join our Substitute Teacher List. Making a difference in the lives of Lethbridge School District No. 51 students is just one of the reasons our substitute teachers love what they do.
EDUCATIONAL ASSISTANTS
Looking for more than just a job? Want to receive more than just a paycheck? How about the unconditional thanks received through the eyes of a child? Lethbridge School District No. 51 has openings for Educational Assistants immediately. We are hiring primarily for our Educational Assistant Substitute list, however, specific positions may be available.