Posted on:
The Division's Town Hall 2021 will be a virtual event this year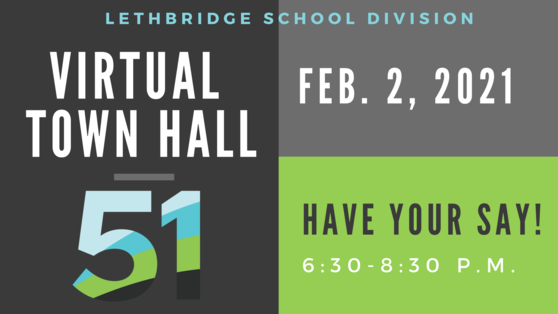 Lethbridge School Division will be hosting its annual Town Hall Meeting on Tuesday, Feb. 2, 2021 from 6:30-8:30 pm. 
The Town Hall will be a virtual event through a Division Town Hall website and Microsoft TEAMS.
The purpose of the meeting is to seek feedback to assist the Board of Trustees and Division in planning for the future. The question Trustees are seeking feedback on is as follows:
In response to COVID-19, changes were made to school organization and instructional delivery. Are there changes that impacted students in a positive way that should continue and be built on?
Participants should have access to a laptop or computer to ensure they can navigate the Town Hall website smoothly. An opportunity for broader engagement will take place after the Town Hall event, as members of the public will be able to provide feedback on the Town Hall website.