Posted on:
Student artwork from Art's Alive and Well featured throughout city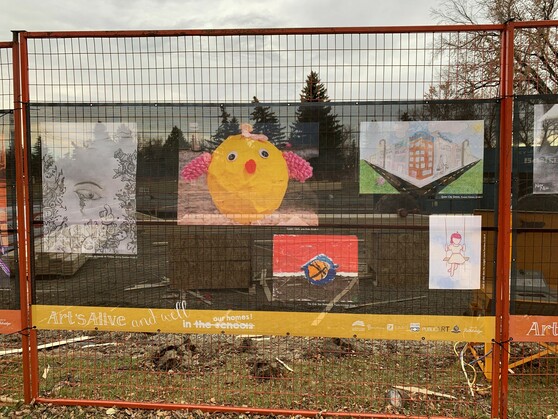 Art is described as an unstructured and open-ended form of work that expresses emotions, feelings and vision.
Art's Alive and Well in the Schools is a yearly art exhibit put on by all the Lethbridge city schools within Lethbridge School Division, Holy Spirit Catholic School Division and École La Vérendrye. It is displayed in co-operation with the Southern Alberta Art Gallery and usually takes place annually in the spring. 2020 looked quite different, in so many ways! In consideration of the current COVID reality, Art's Alive and Well in the Schools became the virtual exhibition Art's Alive and Well in… Our Homes!
The Art's Alive and Well in… Our Homes! exhibition consists of artwork created at home and submitted by children from all schools. A further opportunity to display the artworks was created through a project to create panels for City of Lethbridge construction site fencing. Construction fencing panels were created incorporating a sampling of artworks from the Art's Alive and Well in… Our Homes! 2020 exhibit.
The panels are intended to beautify and add interest to the construction fencing at the new community building construction site at the Nikka Yuko Japanese Garden. The artworks will also be used on panels that will be installed along the 3rd Avenue South reconstruction project fencing in the spring of 2021.
The construction fencing project was implemented by the City of Lethbridge Public Art Program and the Heart of the City Committee in co-operation with Lethbridge School Division and many young community artists.