Posted on:
Stephen Woodcock appointed acting vice-principal at École Nicholas Sheran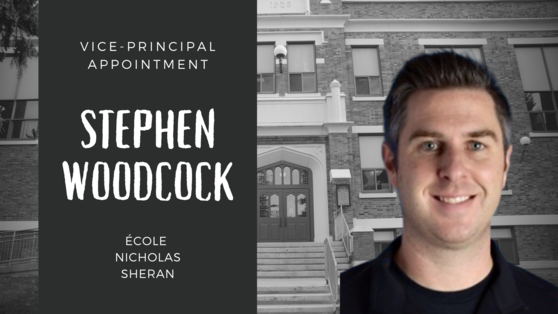 Lethbridge School Division is pleased to announce Stephen Woodcock has been appointed acting vice-principal at École Nicholas Sheran, commencing the 2021-22 school year.
Woodcock is a passionate educator who believes that effective and engaging elementary education provides a multitude of opportunities for students to build academic, social and emotional foundations for success. A committed educator and master teacher, Woodcock possesses the skills, passion, drive and collaborative spirit to be a leader who builds positive culture.
He believes that genuine and meaningful relationships that value each member of a school community leads to dynamic conversations around student learning. Capacity building occurs in collaborative contexts and that distribute leadership and draw from staff strengths. 
Woodcock celebrates differences and understands that students coming from many backgrounds, experiences and abilities contribute to a school that is enriching, caring and framed for all students to succeed.
"I am incredibly excited and honoured to be joining the leadership team at École Nicholas Sheran," said Woodcock. "It has been wonderful to be part of Nicholas Sheran's success in creating an inclusive, student-centred community where every student finds high levels of success focused around our core values of collaboration, compassion, responsibility, and resiliency. Over my last six years as part of this school community I have come to treasure the relationships I have built with students, families, and fellow staff and am eager to welcome our new community members joining us next fall. I am very excited to support our school community in this new role as we continue towards ensuring high levels of success for every student we are lucky enough to welcome into the École Nicholas Sheran community." 
Woodcock has a proven history of strong commitment to collaboration and growth as a professional. He contributes to the school community with active participation in building school culture. He is creative, tech-savvy and a problem solver.
Woodcock has a Bachelor of Political Science degree and Bachelor of Education degree awarded by the University of Lethbridge. He earned his Masters of Education degree in Educational Leadership with the University of San Diego.