Posted on:
Raj Mathur appointed vice-principal at Fleetwood-Bawden Elementary School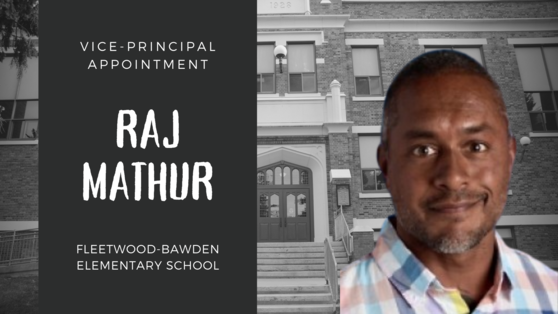 Lethbridge School Division is pleased to announce Raj Mathur has been appointed vice-principal at Fleetwood-Bawden Elementary School, commencing the 2021-22 school year.
Mathur is an educator who engages deeply with the students and staff he works with and takes great pride in creating environments that are safe and grounded in strong relationships. He believes that supporting staff in a leadership role builds capacity for strong instructional practice in classrooms.
Mathur sees all students as capable learners and believes it is our collective responsibility to meet students where they are at so that all students grow and experience success.
In his current role as acting vice principal at G. S. Lakie Middle School, Mathur has assumed leadership in the areas of inquiry-based learning, generative dialogue, literacy and numeracy assessment and instruction and staff professional learning.  
A visible leader and someone who walks the talk, Mathur believes in being and active role model for students and staff. He brings an energy and passion to his role that is infectious.
"I am very excited about the opportunity to join Fleetwood-Bawden Elementary School as vice-principal," said Mathur. "I look forward to fostering meaningful, authentic relationships with students, staff, parents and community members. I am fortunate to have the chance to collaborate with the amazing educators at Fleetwood and to continue to support the ongoing learning of all students in the school community. The dedication to innovation, collaboration, and most importantly inclusive practice, makes Fleetwood-Bawden an incredible environment for learning." 
Mathur has been an educator in Lethbridge School Division for 19 years at the middle school and elementary school levels. As a teacher and leader, Mathur supports inclusion and innovation in classrooms.
Mathur has a Bachelor of Arts degree and Bachelor of Education degree awarded by the University of Calgary. He is enrolled in the Masters of Education degree focusing on Educational Leadership with the University of Lethbridge.