Posted on:
Park Meadows principal goes pink as students hit fundraising goal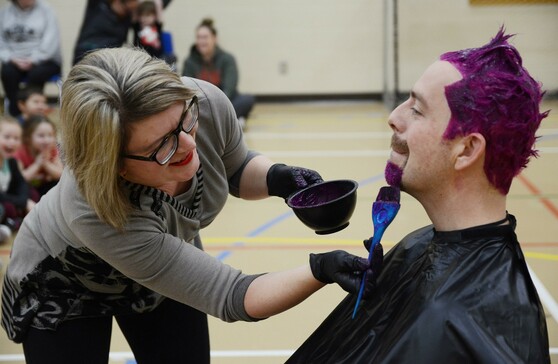 Park Meadows Elementary School principal Mark Blankenstyn had a challenge for his students.
If the youngsters could raise $2,500, he would dye his hair.
Not only did his students reach that goal, but Park Meadows exceeded it, as $3,450 was raised for the school council, to be put towards year-end field trips.
And with that, Blankenstyn followed through on his promise, as his hair was dyed pink, in front of all the students, at a special assembly on Monday morning.
As his students cheered him on, Blankenstyn also agreed to have his goatee dyed pink, after vice-principal Jackie Fletcher agreed to have a bit of her hair dyed as well. 
Hair-raising experience