Posted on:
Friends of 51 Awards presented at District's Board of Trustees meeting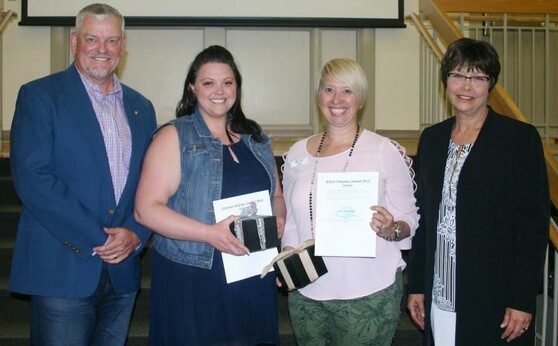 The Friends of 51 Awards provide formal recognition to individuals or groups who, as determined by the Board of Trustees, have provided significant service or contributions to Lethbridge School District No. 51.
At Tuesday's regular meeting of the Board of Trustees, the Board recognized the 2018/2019 recipients of the award.
The City of Lethbridge was recognized, in part, for its contributions to the District through the joint-use agreement, which has been in place since 1959, which allows schools to use city facilities during school hours, and community members to utilize school gyms in the evenings.
Tony Vanden Heuvel, director of Community Services, Abby Slovack, land development manager, Michael Kelly, general manager of Real Estate and Land Development and Jason Freund, Recreation Services manager, received the award on behalf of the city.
Lethbridge College was recognized for its partnership with the District in the availability of practicum programs for future District employees, and for co-operation involving the development of innovative ideas for professional learning opportunities for District staff.
Dr. Jeanine Webber, dean, Centre for Justice and Human Services and Lorraine Leishman, Educational Assistant Program instructor, received the award on behalf of the college.
Dave Wells was recognized for this work with the Southern Alberta Interscholastic Administrative Council (SAIAC). Wells has been a fixture in the southern Alberta athletics scene for three decades, and has been a tireless promoter of high school sports.
At the May 28 meeting, the first round of Friends of 51 awards were handed out. Recipients included:
Belinda Tomiyama and Cinnamon Meldrum, Canadian Blood Services.
Dr. Carmen Mombourquette and Dr. Pamela Adams, University of Lethbridge
Michelle Dimnik, One District, One Book
Ron and Joyce Sakamoto, One District, One Book
Friends of 51 Awards