Posted on:
Division set to celebrate another Wishing Day on May 1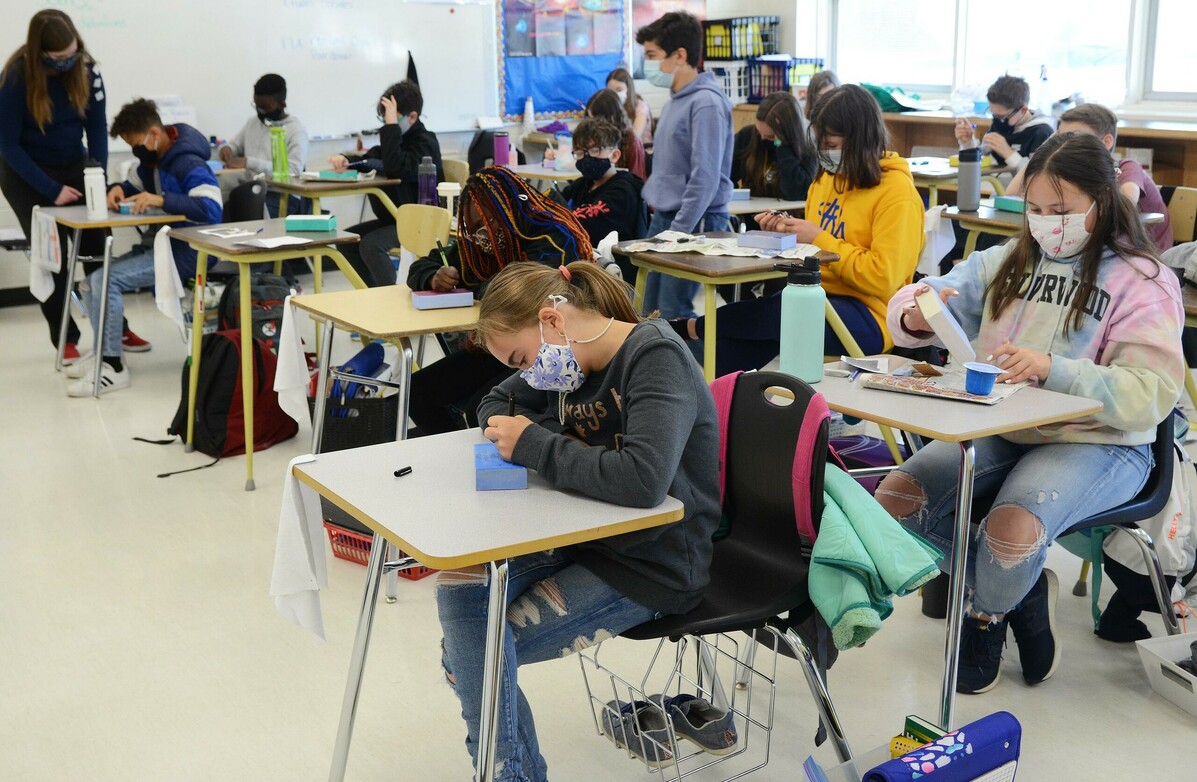 The legacy of 2019's One District, One Book project lives on today
By Garrett Simmons
Lethbridge School Division
The One District, One Book initiative was nothing short of an amazing achievement.
Back in 2019, Lethbridge School Division accomplished something that had never been done before, as every Division student from Kindergarten to Grade 12 received a copy of Katherine Applegate's book, Wishtree.
It was a monumental undertaking, from an organizational and financial standpoint, as schools throughout the Division celebrated Applegate's story of respect, resilience, hope and triumph.
Lethbridge School Division's innovative approach to the One District, One Book was fitting, since the first One School, One Book launch in Canada happened right here in Lethbridge. Back in April of 2007, Dr. Probe Elementary School was the first school to attempt the project, which soon evolved in a multi-school book initiative.
One School, One Book helped engage students in a reading activity that united their community around a common theme, common characters and a common story.
In fact, the legacy of One District One Book lives on, as the Division is set to celebrate another Wishing Day on May 1.
Gilbert Paterson Middle School, for example, is set to share wishes of hope and happiness with seniors in the greater Paterson community.
"Students will each make a wood block craft with a message attached," said Paterson teacher Shelly David. "We intend to share these with residents of Martha's House, the Chinook Hospital's GARU unit, Sunrise Village and St. Michaels."
Students began crafting after Easter, with plans to deliver gifts in early May.
Wish trees and plaques are also set to be installed at all Division schools to help mark the anniversary of One District One Book, while Paterson is also paying it forward with a donation of 372 copies of Wishtree to Coaldale's Jennie Emery Elementary School.
"Our students are super pumped, as we launched this morning at 9," said Jennie Emery Grade 3 Nicole Kaminski about Friday's launch. "Our mascot, Emery, delivered the books to students this morning. Students had big smiles. We had a few kiddos who came from Lethbridge and are still excited to do it again."
Kaminski added the school is excited to see what students will take away from their Wishtree experience.
"We liked that the concept of the book that instills a message of including others and the importance of community," she said. "We are hoping the kids get an understanding of compassion and acceptance from the novel. This is a community-building activity in our school that gives families and students a positive boost. It encourages families to sit down and read together which helps build a strong foundation of literacy."
Emery's One School, One Book project is a great way to bring the school together during these interesting times, according to Kaminski, who added the school is grateful for Paterson's donation.
"We are very thankful to the school for sharing the books with us and it also ties in with the theme and paying it forward and helping others," she said. "We are also very fortunate to have the Coaldale Kinnettes and Kinsmen provide donations to support more activities with the project."
Some of those activities will include additional resources for teachers to use to promote the book and continue the discussions about the book in class.
"There will be a school-wide art project that will go in our windows of each classroom to share with the community in a gallery walk," said Kaminski. "This allows parents to see the different projects since they no longer get to roam the hallways to see them."
Certainly, none of these One School, One Book initiatives would have been possible with the leadership of Dr. Probe some many years ago. Michelle Dimnik was there at the beginning for Probe's dive into One School, One Book. Dimnik also served on the One District, One Book committee, and the now-retired teacher said it warms her heart to see the project still having an impact two years later.
"Those who participated in our first One District, One Book project continue to speak warmly and enthusiastically of the Wishtree characters and continue tying ribbons on Wishtrees on May 1.," she said. "The messages of hope, friendship and compassion which emanated from our Wishtree book project are ever present and more important now than ever before, especially as the onset of COVID-19 has made us aware that we are part of a community and how we treat and protect others is at the very core of our society."
The pay-it-forward idea, where families returned their Wishtree books back to the Division for redistribution, has allowed many schools all over the province to do a 1S1B project or similar school literacy project with the books. 
"It is exciting to think that other communities are currently having the same shared reading experience with our Wishtree books as our Division did, and I hope that this experience will give those communities cause for lots of good discussion and possibly be a catalyst for growth and change," said Dimnik. "I hope this project and the timeless message in the Wishtree story continues to be paid forward to many more schools, and what started in our school division will ripple on for many years to come."
She added the legacy of One District, One Book is all about connections, and a shared reading experience that united and engaged the Lethbridge community.
"It's about igniting conversations that can lead everyone, regardless of age, to a greater understanding of inclusion, acceptance, empathy, tolerance and respect."
Dimnik added when people see the Wishtrees and plaques on the school playgrounds, or see the Wishtree memory books, they will be reminded of the themes and messages in the story.
"I hope they ask questions and want to re-read the book, or for those who had not participated in the initial program, to read the book for the first time," she said. "I hope that they will also reflect on Katherine Applegate's special message placed on each plaque which states, 'For newcomers and welcomers. A community can never have too much compassion or too many trees.' I hope that they also make a wish: a wish for themselves, a wish for others and a wish for the world."
One District, One Book built on the shoulders of many successful One School, One Book and Three Schools, One Book projects done in several schools in the Division. Replicating that on a Division-wide level included 40,000 people, consisting of 12,000 students, their families and Division staff.
"We took on a truly unique challenge, as no other school district in the world had undertaken such an ambitious project involving staff and students from Kindergarten to Grade 12 and their families, reading the same book at the same time," said Dimnik. "It took a great deal of planning, effort and commitment to bring this idea to fruition. But with the generous encouragement from the School Division administration and Board of Trustees and generous financial support of our community we knew it could be done."
Community financial support, assistance from the U of L Bookstore and the generous contribution from Ron and Joyce Sakamoto helped make the project a success.
"The Bookstore was able to negotiate an incredible price for the purchase of the 12,000 books needed for the project and Ron and Joyce Sakamoto provided the initial deposit of $40,000 required by the publisher," said Dimnik. "This incredible support and belief in the project by the Bookstore and the Sakamotos gave us the confidence and incentive to fundraise the rest of the money needed to secure the purchase of the books."
She added the committee was overwhelmed by the generosity of school division students, their families, various business owners and the provincial government, which supplied grant money for the initiative.
Wishing Day 2021