Posted on:
Division receives 40 Chromebooks thanks to E-Free Church donation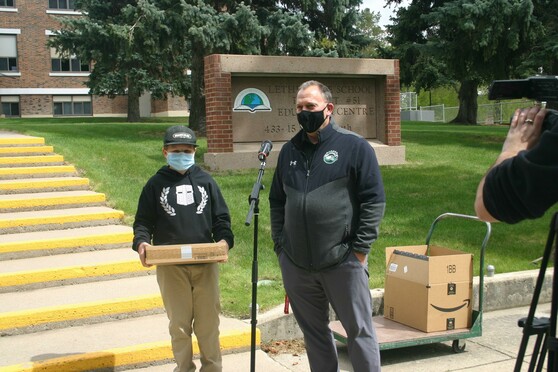 More technology is heading straight into the hands of students in Lethbridge School Division, thanks to a donation from the Evangelical Free Church of Lethbridge.
On Wednesday, the church delivered 40 Chromebooks to the Education Centre, which will be immediately distributed to elementary, middle and high schools.
"We love being a part of the city of Lethbridge and want to see our community grow and thrive," said Monica Loewen, Minister of Community Engagement for the Evangelical Free Church of Lethbridge. "We want to be a part of that thriving, reaching out to those in need as we share the hope we have in Jesus."
Earlier this afternoon, schools began to pick up their Chromebooks, which started with with Winston Churchill High School and Wilson Middle School, who received 10 units each.
G.S. Lakie Middle School, Gilbert Paterson Middle School, Galbraith Elementary School and Fleetwood-Bawden Elementary School will receive five Chromebooks each.
"Lethbridge School Division is incredibly grateful for this generous donation from the Evangelical Free Church of Lethbridge," said Lethbridge School Division Superintendent Cheryl Gilmore. "This school year has really emphasized how important it is for students to have reliable technology in their homes, and we are happy another community organization has stepped up to help make that happen for our families."
Loewen added the church is grateful to be able to support students and their families.
"As a church community, we have been so blessed by God and like Jesus, we want to serve others and pour that blessing out into our city," she said. "E-Free Lethbridge enjoys being able to partner with the Lethbridge School Division. We value this relationship and look forward to continuing to serve the students and families of the Division."