Posted on:
Daytona Homes shows support for Ready, Set, Go! Back to School Fair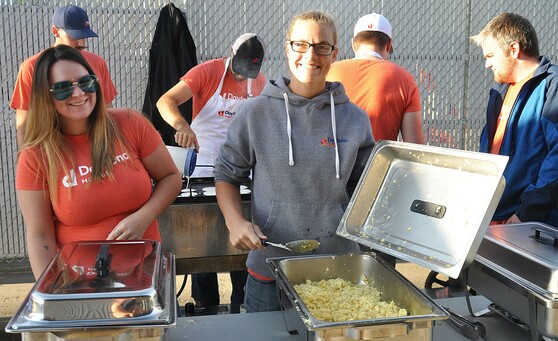 Daytona Homes has been a strong support of the Ready, Set Go! Back to School Fair.
On Tuesday morning, Daytona hosted another edition of the company's Whoop-Up Days pancake breakfast, with the goal of funds for the fair.
"This is our 11th annual backpack program and pancake breakfast," said Dayton's Chantal Obara. "All of the money goes back to the backpack program. It's split between Holy Spirit and Lethbridge 51."
Every year, students who attend the fair have the option of selecting new school supplies, such as backpacks, clothing and general classroom materials.
The money raised from Daytona's annual charity efforts goes a long way towards allowing the Ready, Set, Go! event help local student prepare for another school year. Daytona is one of many location organizations that contributes to the fair. See a complete list of last year's back-to-school heroes here: SUPPORT.
For Obara, the pancake breakfast is just one way for Daytona to help the local school community.
"People are able to make a donation and all the money raised today goes back to the kids. We donate the food and all the money goes back."
What started out as a casual breakfast event has morphed into a major fundraiser for the company.
"Now that it's been so many years, a lot of people are familiar with the backpack program now, so that helps," said Obara. "This is our biggest fundraiser that we do each year."
In fact, $48,763 was raised last year, a total which would not have been possible without the support of Daytona's partners.
"The majority of that comes from our trades and suppliers," said Obara. "They are hugely invested in this."
Daytona has also invested heavily in the Ready, Set, Go! event, as the company's employees will once again be out in full force on Thursday to volunteer for the annual fair.
"We're just happy to do it," said Obara. "We love to give back to the community."
Daytona Homes annual pancake breakfast