Posted on:
Darci Lang highlights annual Welcome Back Breakfast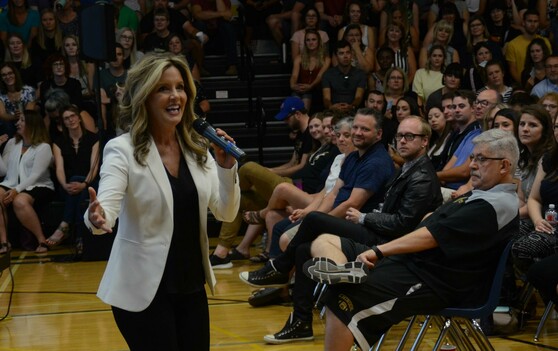 Another school year officially kicked off for staff on Friday, as Lethbridge Collegiate Institute hosted the annual Lethbridge School Division Welcome Back Breakfast.
At this year's breakfast, participants learned to Focus on the 90 Per Cent, with keynote speaker DARCI LANG.
Lang showed staff how developing a positive 90-per-cent attitude is at the heart of personal and professional success, and how we are all accountable for our own attitude.
Lang told the audience that focusing on the 90 per cent helps you to be inclusive and work well with others, and keeps you forward thinking during challenging times. It helps you feel happier and more fulfilled at work, and have something left for your own family when you get home.
Lang is an inspirational speaker, an award-winning entrepreneur, a best-selling author, a wife and a mom to two teenagers, whose simple tool helps individuals reframe the way they look at, and think about, their work and their interactions with others.
The LCI Gold Jazz Band kicked off the morning with a number of entertaining performances, as the welcome back breakfast program included greetings from Lethbridge School Division Chair Clark Bosch, a wellness address from Assoc. Supt. Morag Asquith and Supt. Cheryl Gilmore's presentation - Looking Ahead: 2019/2020 School Year.
After the breakfast, Lang hosted a second session, inside the small gym at LCI, for members of the Division's Education Centre staff.
Welcome Back Breakfast 2019