Posted on:
Australian basketball teams visit WCHS for weekend tournament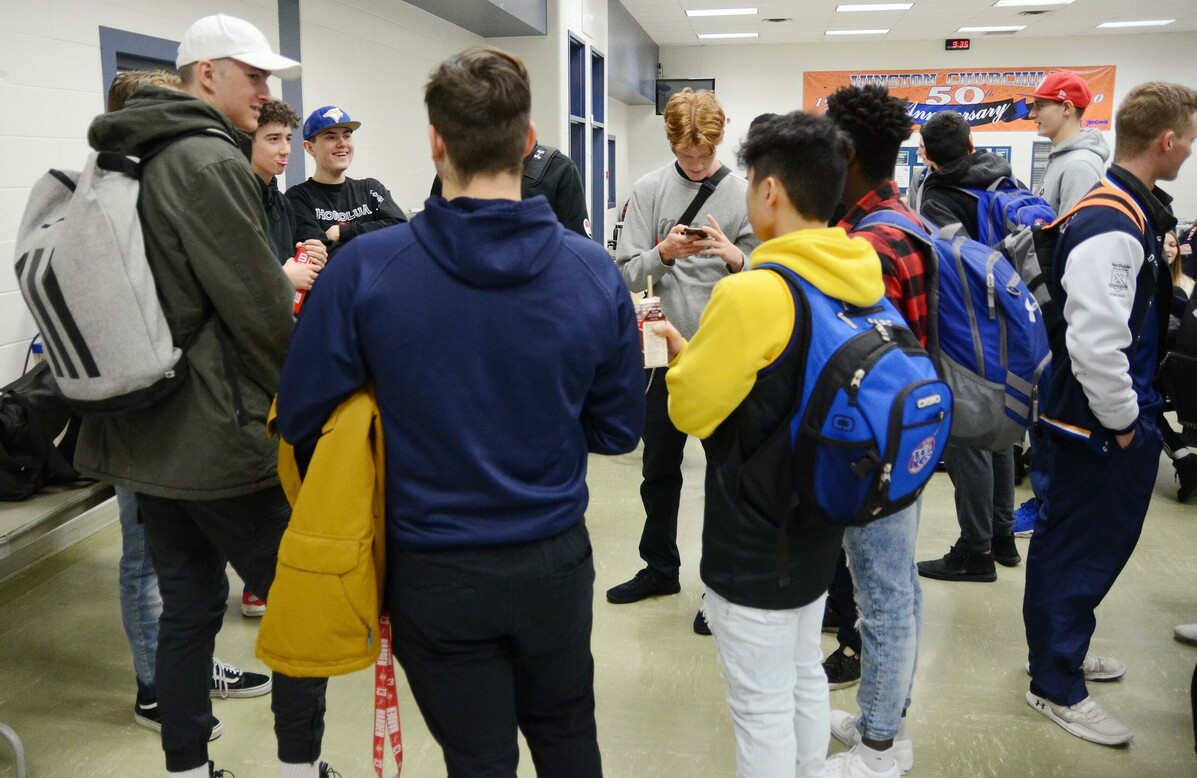 By Garrett Simmons
Communications Officer
Lethbridge School Division
Visitors from Brisbane, Australia wanted to see some snow, and they have not been disappointed.
Staff and students from Northside Christian College arrived in Lethbridge Thursday afternoon mand proceeded to head to Winston Churchill High School for joint practices with the WHCS Bulldogs and Griffins.
The Aussies are competing in this weekend's Griffins Basketball Senior Varsity Girls Jamboree, which also includes a junior varsity boys component.
And while the basketball is certainly a focus for the trip, the weather had school staff members buzzing.
"We're just in awe at the moment," said Northside principal Stewart Smith. "Driving here we were just looking and looking because snow is everywhere. We see it on TV but to be here and experience it is just a whole new level."
The white stuff was also a source of amazement for Michael O'Neill, secondary teacher at Northside.
"For you it's an inconvenience but for us it's just a major blessing."
A trip to the winter wonderland of Lethbridge is just part of a basketball tour for the Northside staff and 24 basketball players from the school. According to Smith, the plans were laid when the current crop of Grade 12s were in Grade 8. He promised the players if they stuck together as seniors, a major trip would be in the cards.
That's when Smith started to look north. And through a location connection, a stop in Lethbridge was finalized.
"Rohen Crown, who's the pastor at Amazing Grace Church, he's a good friend of mine and his nephews all go to our school and play basketball in our program, so he's just been fantastic organizing everything we are doing up here. That's how we've gotten connected with Winston Churchill."
In fact, Crown has also taken care of the accommodations for the Brisbane contingent, who endured a long travel schedule to trek to the Great White North.
"We're sleeping in the church on mattresses on the floor," said Smith. "That's where we're hanging out. To get here it was a 31-hour haul. We did come a bit of a long way through Minneapolis, so from the moment we hit the airport in Brisbane, Australia where we're from to Calgary, it was 31 hours. The kids have held up pretty well I think, and ourselves, considering."
After all that time in the air, the Northside contingent finally made it to Lethbridge Thursday afternoon, just in time for a joint practice with the WCHS Bulldogs and Griffins. That experience, and an evening spent with their Canadian counterparts, resulted in immediate bonds being formed.
"Our girls and our boys got to have a little session run by the coaches here, which was just absolutely brilliant," said O'Neill. "We spent a couple of hours in the art room and then we ate. It's just been amazing to watch the connection with the kids – just so genuine, so surreal. The girls have a group chat going already and by the time they walked in this morning it's like they were greeting old friends, not new ones."
Smith added the on-court portion of the trip is certainly important, but it is only part of the experience.
"I think the first bit is using the avenue of basketball to meet new people, make new connections overseas, experience the culture, because I think that is really huge for us all," said Smith. "We have our faith as well that we love to carry with us everywhere we go, our faith in Jesus, and that's our connection with the church. It's just all of those things combined together, which is making this a really rich experience."
The Northside principal added this weekend's tournament will be an excellent starting point for his school's tour.
"It's that opportunity to just play other people that you'd never play before, and to experience the game in a different country, see where the emphasis on play is. As a coach, that's what I'm looking for," said Smith. "How exciting of the kids, and what an opportunity to come to Canada and to play in a tournament here against other high school teams. It's just unique and I bet you they will never forget this for the rest of their lives.
Northside has one girls team and one large boys team that has been split into two teams. One team is competing in the WCHS tournament, while the other will play at Chinook High School this weekend.
O'Neill added Northside, and the school's basketball program, is certainly a lot different from what is the norm here in Canada.
"Our school is a little independent school called Northside Christian College on the northside of Brisbane, and we have a population of about 1,200 students, and that's from P to 12 (prep to Grade 12), so that's all the way down."
Northside has just over 100 students per grade level, and a basketball culture that has exploded recently.
"We've got 13 club teams from Grade 5 up," said O'Neill. "We also have our senior program where we've got eight teams as well, dedicated to competitions. We have a couple of teams in each age level. Basketball has kind of taken over but it's still in its infancy. This has all happened in the last two years or so."
O'Neill added Northside would probably sit in the second-tier level in terms of basketball, but added there is a high level of talent which has made its way to Lethbridge.
"With our boys group, we've got seven kids that have gone in representative regional teams throughout their time playing, so they're a good, competitive bunch. The girls are pretty fresh. The girls are a couple of years into it in a relatively new program but a building one."
The Northside girls team will hit the court tonight at 5:30 p.m. at WCHS against W.R. Myers, while the Australian boys will take on WCHS at 7:15 p.m.
Saturday, the Northside girls team takes on ICS at 9:30 a.m. and WCHS at 6:30 p.m., while the Northside boys play Myers at 11 a.m. and ICS at 5 p.m.