Posted on:
Chinook High School Music Theatre class to present Disney's Descendants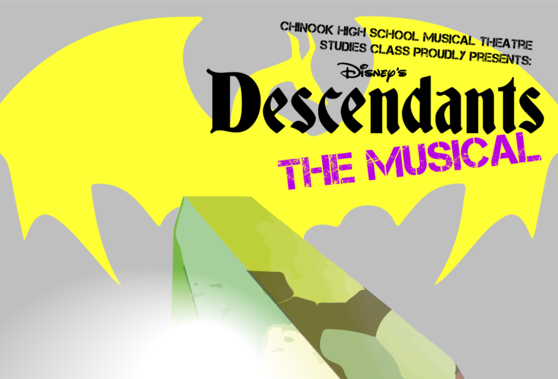 Changes are afoot in the kingdom of Auradon! Here, all of Disney's favourite heroes and heroines are living in peace, happily ever after. Meanwhile, the evil villains and troubled sidekicks have been banished to the Isle of the Lost, where they are stripped of their magic and powers.
Ben, the beloved son of King Beast and Belle, is about to be crowned as King of Auradon, and he has a radical idea. He decides to invite four trouble-making offspring of the most wicked villains to take their places as students at Auradon Prep.
Mal, Evie, Jay and Carlos - the children of Maleficent, Grimhilde, Jafar, and Cruella De Vil, come to Auradon with an evil plan of their own. They have been tasked with stealing the Fairy Godmother's magic wand and restoring their parents to power.
However, will they go through with the plan? Or... do they have the potential to learn to be good?
WARNING: Use of strobe lighting effects and theatrical fog.
Opening Night: Friday May 27 at 7 p.m. – Chinook Media Centre - Doors open at 6:30
Adults - $10, Seniors and Students - $5
Other show dates: May 28 at 2 p.m. (Doors open at 1:30), May 28th 7:00 pm (Doors open at 6:30), June 1 at 7 p.m and June 2 at 7 p.m. 
Descendants