Posted on:
Former trustee Jan Foster remembered for unwavering commitment to children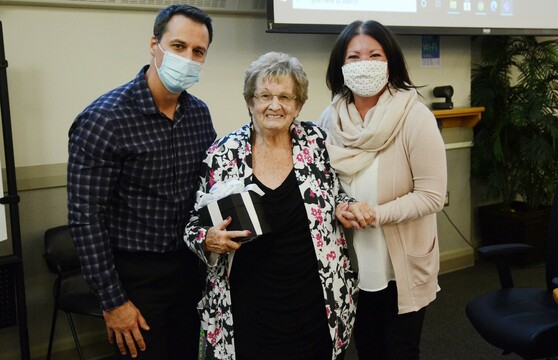 Jan Foster, a former Lethbridge School Division trustee who served students, staff, parents and community for 23 years, passed away on April 19. 
Foster's first term as a trustee was in 1983, followed by three terms until 1992. She took a break from school trusteeship and returned to her governance role with the division in 2007.
Foster served four consecutive terms and made the decision to "retire from politics" and not run in the fall 2021 school board election.
"For those school board trustees and central office administration who had the privilege of working with Foster, she was admired for her depth of knowledge, ability to make a difference through governance, unwavering commitment to children, and decision-making grounded in the question, 'Is this what is best for kids?' "said Lethbridge School Division Supt. Dr. Cheryl Gilmore.
Foster was visible in schools, was passionate about engaging with students, parents and staff, and had a gift for listening.
"Possessing a heart of gold, sense of humour and spirited disposition, Jan lit up a room with her smile," said Gilmore. "She always gave of herself and peeled away to the root of challenges with her keen intellect and ability to ask the right questions."
There was nothing that could elicit a smile and story more than talking about her son, Gregory Foster, his wife Stephanie, and their two sons. She truly cherished her grandchildren.
A Memorial Service will be held at 1 p.m., on Wednesday, April 27, at Martin Brothers Riverview Chapel, 610-4 St. S., Lethbridge, Alberta.
Please click on the following link to read the obituary on the Martin Brothers website: JAN FOSTER.