Posted on:
Division responds to Wednesday's provincial government curriculum announcement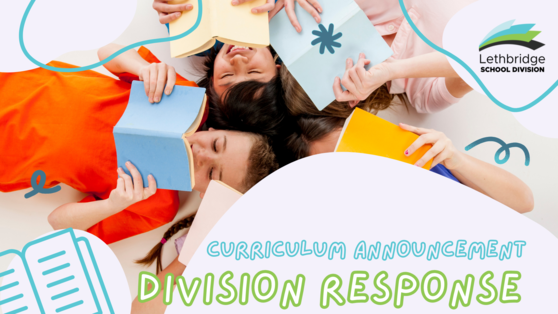 Lethbridge School Division is in the initial stages of analyzing the new curriculum made available for English Language Arts and Literature, Math and Physical Education and Wellness.
Time will also be needed to perform a deep dive into the resources the government has made available, and the steps the Division can take to further support our educational professionals.
The Division is looking forward to having an opportunity to view the draft K-6 curriculum in Science, French First Language and Literature and French Immersion Language Arts and Literature, when they are released in May.
More details are also expected later in 2022 on the updated K-6 Fine Arts curriculum.
The Division is hopeful more engagement and feedback opportunities will be made available for the remaining K-3 subjects, along with Mathematics and English Language Arts and Literature for Grade 4 to Grade 6.
"The government's phased approach to implementation does allow for more time to add finishing touches to the curricular content, based on feedback received from stakeholders throughout the province," said Lethbridge School Division Board Chair Allison Purcell. "These feedback opportunities need to continue, to ensure a wide variety of perspectives are taken into account."
In terms of the K-6 Social Studies curriculum, the Division is hopeful meaningful changes, including a focus on Indigenous perspectives, will be included when that draft is released in the future.
"We do not have a timetable for when the next draft may be released," said Purcell. "I am optimistic the government will seek input from stakeholders across the province to ensure the curriculum is well rounded and as inclusive as possible."
The Division is also pleased to see the $59 million invested in professional learning and resources for 2022/2023, including the $37.7 million to be distributed by late May.
In the meantime, educational leaders throughout the Division will closely examine resources that are currently available, such as those found online on the new LearnAlberta website located here: CURRICULUM.
"As a Division, we are committed to assisting our educational professionals however we can to ensure we are ready for September of 2022," said Superintendent Dr. Cheryl Gilmore.