Posted on:
Former LCI teacher celebrates her 100th birthday with special visit to school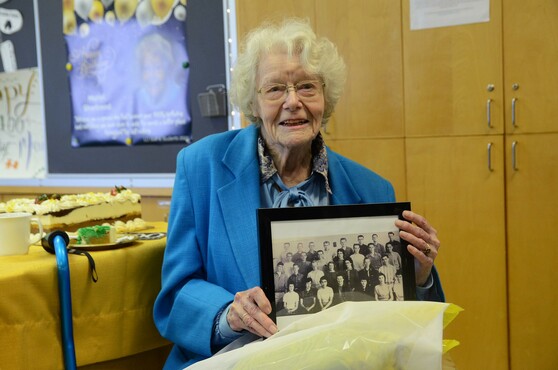 Muriel Shortreed enjoyed a long and distinguished career at Lethbridge Collegiate Institute.
On Sunday, the long-time teacher officially turned 100 and on Monday, she was honoured during a special ceremony at LCI.
Shortreed, who retired in 1983, spent 33 years as a teacher at LCI. She was also a long-time member of the Alberta Home Economics Association and the Alberta Teachers' Association.
Shortreed enjoyed a brief tour of the school before she attended a birthday party in her honour, complete with an appearance from retired LCI teacher Joey Shackleford, who taught with Shortreed for four years.
"I got to know her as a colleague and she was a teacher here when I was a student at LCI as well," said Shackleford. "As a returned teacher myself, I look at Muriel and I think, 'Boy, she has set the bar high for every retired teacher in not only Lethbridge but all of southern Alberta. She was a fabulous teacher here and is a fantastic person."
Happy 100th!