Posted on:
LCI mixed curling team takes home provincial gold medals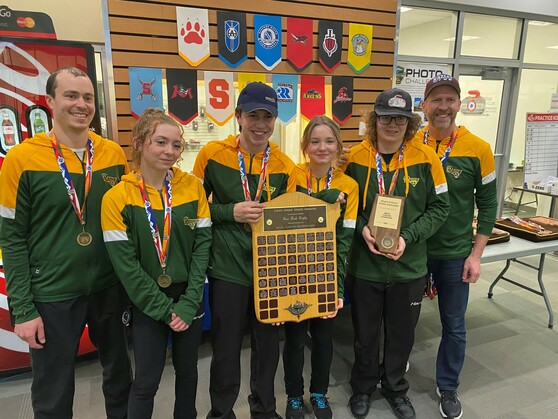 The Lethbridge Collegiate Institute mixed curling team earned provincial gold on the weekend at the 2022 Alberta Schools Athletics Association Curling Provincials.
Rhett Whittmire, Raquel Snideman, Bradley Pike and Paige Snideman took the title on home ice, as the Lethbridge Curling Club and LCI joined forces to host the event at the ATB Centre.
Cory Hoffner and Coach Dave Fletcher coached the LCI team to the gold, as the mixed squad defeated Edmonton's Harry Ainlay 11-4 in the championship game. To get to the final, LCI defeated Picture Butte 10-7 semifinal.
In pool play, LCI defeated Barrhead 10-3, earned a massive 21-4 victory over George McDougall and scored a decisive 8-1 win over Beaverlodge. LCI's lone blemish was an 8-4 loss to Ainlay.
LCI's boys team went 0-4 in pool play, with losses against Redwater, Cochrane, Sexsmith and McNally.
The LCI girls team went 1-3, with losses against Chestermere, Sexsmith and Salisbury and a win over Morinville.
Chinook's girls team went 2-2 in Pool A, as the Coyotes defeated OLMP and St. Paul and fell to Lacombe and Sundre. The Chinook boys went 0-4, with losses to Lindsay Thurber, Holy Rosary, Warner and J.R. Robson.
For more information on the tournament, including more photos from the event, please click on this link: