Posted on:
Further information regarding changes to public health measures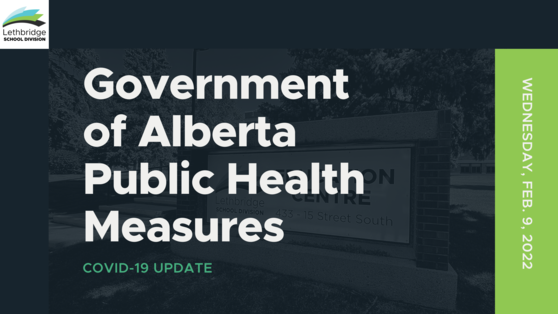 Tuesday evening, the Government of Alberta announced plans to gradually lift public health restrictions, in three steps.
Starting today, as part of Step 1, the Government of Alberta has removed the Restrictions Exemption Program.
For Lethbridge School Division, the implications of that decision for spectators at extra-curricular and co-curricular events are as follows:
- school gyms with a capacity of 500-1,000 spectators are limited to 500 spectators
- school gyms with a capacity of over 1,000 spectators are limited to 50-per-cent capacity
- the requirements concerning one-third capacity and two-metre social distancing have been removed
- adult spectators are required to wear masks inside our venues. At this time, it is our understanding spectators aged 13-18 will also have to wear masks at this juncture. Once clarity is provided from the province, the Division will alter this as necessary.
At this time, procedure 700.3.4 remains in place during regular school hours. This procedure requires all adult visitors (including parents) to provide proof of vaccination or proof of a negative COVID test (as defined in the procedure) when attending a Division facility during the regular school day. We will update you on changes to this procedure once we have information from the province.
Starting Monday, the Province of Alberta has announced the removal of mandatory masks for children from ECS and Grade 12 while attending school. The Medical Health Order will be lifted on Sunday to accommodate this change. As such, the Division will proceed with this change to masking on Monday, as per the province's direction.
Masks will still be required for adults, including teachers, administrators and other school staff, including bus drivers. 
Further to the topic of masks, direction from the Minister of Education states "as of Feb. 14, 2022, school boards will not be empowered by provincial health order or recommendations from the CMOH to require ECS-Grade 12 students to be masked to attend school or to ride a school bus."
The Minister also added "School authorities cannot deny their students access to in-person education due to their personal decision to wear or not wear a mask in schools. Individual family choices need to be respected and students should not be stigmatized for their choice related to masking going forward, similarly to their personal vaccination status."
Step 2 will be effective on March 1, 2022. Changes involved in Step 2 will include the removal of the provincial mask requirement, removal of capacity limits for large venues, the removal of cohorting requirements in schools, the removal of screening for youth activities and the removal of social gathering limits.
No timeframe has been set for Step 3, which will include the removal of the mandatory isolation requirement.
Please note, the province has also released a new COVID-19 Alberta Health Daily Checklist, which can be found here: CHECKLIST.
The Division is also awaiting further information from the province, as an update to the Alberta COVID-19 Guidance for Schools (K-12) and School Buses is expected to be released later this week.