Posted on:
Lethbridge School Division revises 2021/2022 Re-Entry Plan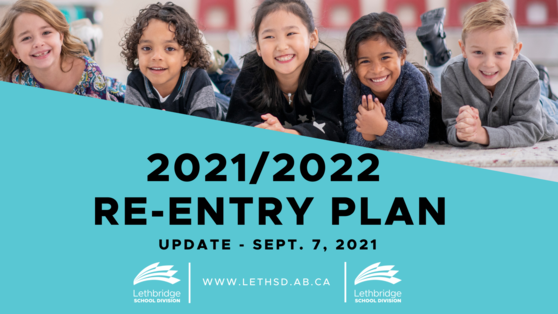 Lethbridge School Division has revised the 2021/2022 Re-Entry Plan in response to the Government of Alberta's Sept. 3 announcement.
Effective Thursday, Sept. 9, enhanced classroom and school protocols will be in place throughout Lethbridge School Division.
Starting Thursday, students in elementary, middle and high school will be asked to wear a mask in classrooms when they are out of their assigned seating plan and engaged in close-contact activities. At all other times, wearing a mask in the classroom will be encouraged and supported but not required.
In middle school, students will continue to wear masks in the classroom when they are in mixed cohort groups such as option classes.
Additionally, high school students will be required to wear masks upon entering and exiting school, and in common gathering spaces inside the schools.
"This approach considers Alberta's health protocols while also taking into account the mental wellbeing of our students," said Board Chair Christine Light, who added wearing masks in outdoor spaces will also not be required. "When developing these additional mitigation strategies, the Board made the decision to enhance our strategies inside our school buildings, including our high schools."
In developing the new Classroom Protocols, found on Page 11 of the 2021/2022 Re-Entry Plan, the Board considered the provincial protocols, announced last Friday, and acknowledged the Board's responsibility to set COVID-19 management policies as they deem appropriate.
At this time, there are no changes to the Division's protocols regarding extra-curricular and co-curricular activities. Restrictions on after-school activities will continue at the elementary level, while these activities will continue to be allowed at the middle school and high school levels, as per the Division's Extra-curricular and Co-curricular Phase-in Plan.
The 2021/2022 Re-Entry Plan is a fluid document and as such, is subject to change.
Lethbridge School Division will seek to gather feedback on the plan via a survey, which will be released on Sept. 15. Details will be shared on our website at www.lethsd.ab.ca, on our social-media channels and through SchoolMessenger.