Posted on:
Division will recognize Sept. 30 as National Day for Truth and Reconciliation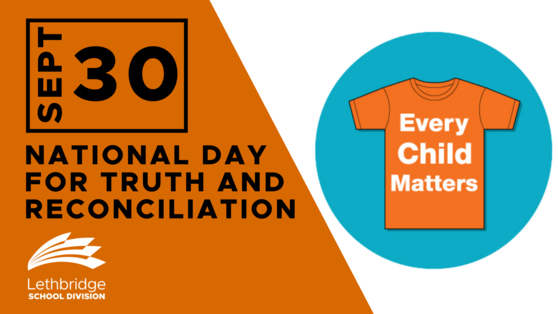 In late September, Canada will recognize the tragic history of residential schools in this country.
The Government of Canada recently passed legislation to make Sept. 30 a federal statutory holiday called the National Day for Truth and Reconciliation.
This day provides an opportunity to recognize and commemorate the history of residential schools, and with that in mind, Sept. 30 will be a non-operational day for Lethbridge School Division. There will be no classes and schools will be closed on that day as our Division, like many others throughout Alberta, seeks to engage in the process of truth and reconciliation.
"Residential schools not only mark our history but our community today," said Christine Light, Board Chair, Lethbridge School Division. "Like other communities throughout Alberta and across Canada, we have students, staff, families and neighbours whose stories have been touched by personal experience or through memories shared by family members, of lives shaped and changed by the devastating separation from their families and being placed into life in a residential school. Lethbridge School Division believes it is imperative to face, reflect, learn and grow from this history to honour both those who experienced this atrocity first-hand as well as those who continue to bear the marks today. We desire to become a community who grows in understanding, sees with compassion and lives with an inclusive spirit."
Lethbridge School Division schools will also recognize Truth and Reconciliation Week from Sept. 27-Oct. 1, 2021. This week will honour Every Child Matters and Orange Shirt Day, as schools will select at least one school day within this week to recognize Orange Shirt Day, as students learn about the history of residential schools.
For more information about Indigenous Education in Lethbridge School Division, and our commitment to be responsive to the needs of Indigenous students, please visit our Indigenous Education webpage.
Our school calendar will be updated to reflect this change. Visit the Calendar page on the Division website to view the online calendar and to download the annual calendar.
Please see the video below featuring Jordan Head and Lethbridge School Division's Nitsitapiisinii/Nature Education Co-ordinator, John Chief Calf, speaking about the importance of recognizing Sept. 30 as the National Day for Truth and Reconciliation.