Posted on:
Duane Piper appointed vice-principal at Chinook High School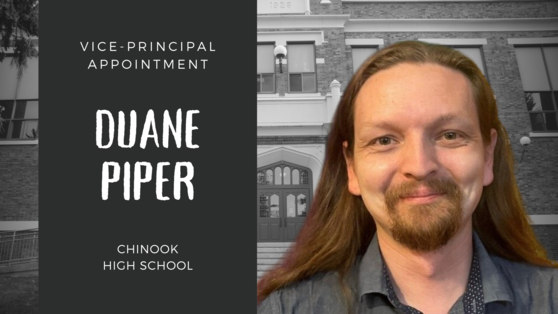 Lethbridge School Division is pleased to announce Duane Piper has been appointed vice-principal for Chinook High School, commencing the 2021-22 school year.
Piper is a passionate educator who believes deeply in ongoing growth and development of students and staff. A relationship-centred teacher, he builds the foundation of trust through thoughtful and respectful interactions with students and colleagues. He strongly supports distributed leadership and the power of collaboration that achieves great things for students that cannot be done in isolation. Duane possesses an energy and creative mindset that is infectious. He actively seeks opportunities to build community and connection to bring recognition to complex issues and contribute to the building of understanding.
Piper's traditional Cree name, ᓇᑲᒧᓴ Nakamos, which means "Little Singer," is central to who is as a person who desires to focus on school culture that celebrates diversity. He is truly committed to the culture of growth and inclusion at Chinook High School and is excited about the opportunity to support staff and students in a leadership role.
Piper is a consummate professional and reflective practitioner active in his own professional learning and committed to supporting others. He contributes to the development of young teachers as a Sessional Instructor in Curriculum and Instruction with the University of Lethbridge. 
"Over the last few years, I have loudly told anyone who would listen that I have my dream job as a drama teacher at Chinook High School," said Piper. "However, the more that I reflect on this, the more I realize that I work in my dream school. There are 100 staff members in our building, and I would happily take on any of their roles and find fulfillment. Chinook is a great school because of the staff and students that learn here and the passion they bring to their growth. To be called upon to move into a leadership role is both humbling and thrilling. It means that I get to support every staff and student to help grow our collective passion, which is making Chinook the best school it can possibly be. A school where every student can be a part of the Chinook family and access a fair and substantive education." 
Piper has been an educator in Lethbridge School Division for four years at Chinook High School, working his magic with students in drama. Prior to joining to Lethbridge School Division, Piper was a teacher at the high school level in Livingstone Range School Division and served as an acting vice-principal and the school's FNMI Liaison. Piper also brings the lens and experience of his work as an addictions counsellor and outreach team leader for a number of years.
Piper has a Bachelor of Fine Arts degree and Bachelor of Education degree awarded by the University of Lethbridge. He is completing his Master of Education degree focusing on Educational Leadership with the University of Lethbridge. He was recently honoured with his appointment on the University of Lethbridge Senate.