Posted on:
Division HR professional honoured with award nomination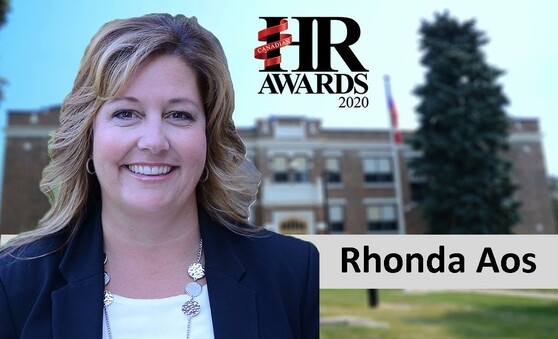 Lethbridge School Division's Rhonda Aos has been selected as a finalist for the Human Resources Leader of the Year Awards in the seventh annual Canadian HR Awards, presented by HRD Canada and supported by Canadian HR Reporter.
The Canadian HR Awards celebrates the outstanding achievements of HR teams, leaders, employers and service providers across the nation.
Aos, the Division's Director, Human Resources, Support Staff, has been nominated in the Leadership Agency Award for HR Leader of the Year category.
"When I started my career in HR in Lehtbridge School Division, I never thought I would have been nominated for such a prestigious award," said Aos. "I'm still blown away that this southern Alberta HR professional is a finalist. My goal every day is to take care of people and I have always considered myself lucky to help others in their journey."
Finalists were selected following an open call for nominations to HRD Canada and Canadian HR Reporter's nationwide readership of 34,800 HR professionals.
Winners will be selected by an esteemed independent judging panel, and will be revealed during a virtual awards show on Sept. 16.
"This has been an incredibly challenging year for HR professionals," said Canadian HR Awards project director Jessica Duce. "The list of finalists is a true snapshot of the best and brightest in HR and honours those who have stepped up and put their people first at a time when it mattered most. It's our honour to acknowledge and celebrate this deserving group at the September show."
For the full list of finalists, visit www.hrawards.ca.   
Since 1886, Lethbridge School Division has offered high quality learning experiences over a broad range of programs to meet the needs of a wide variety of learners. The Division educates over 11,000 students within the City of Lethbridge and employs nearly 1,200 staff members. 
Human Resources Director Canada is Canada's premier news source for senior human resource professionals and top corporate decision-makers. HRD Canada talks to leading HR practitioners worldwide to produce industry-standard reporting that supports both the business and best-practice functional requirements placed on HR leaders in their evolving roles. HRD Canada's award-winning website (www.hcamag.com) features daily breaking news, an industry forum and exclusive multimedia content and is complemented by sister sites in Asia, Australia and New Zealand.