Posted on:
Witten appointed vice-principal at Immanuel Christian Secondary School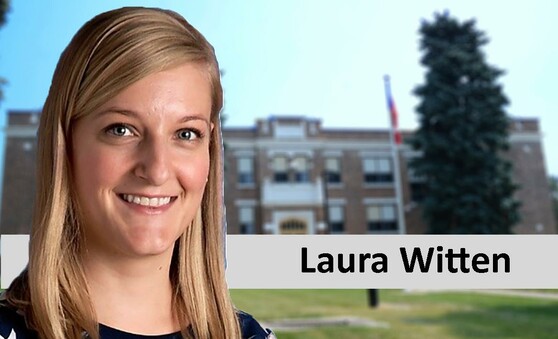 Lethbridge School Division is pleased to announce Laura Witten has been appointed the vice-principal for Immanuel Christian Secondary School.
Witten has assumed the position of acting vice-principal at ICSS since February, 2020, and the Division is pleased to announce she is now the successful candidate for the continuing vice-principal position, effective immediately.
A talented educator, Witten creates innovative environments that engage students and stimulate growth. She is student centred and believes in creating spaces that are supportive and caring. She is also highly organized, supportive of teachers in their classroom instruction, and committed to curriculum implementation.
Trained as a curriculum coach, she has been a role model in curriculum delivery as a teacher, and a leader in the delivery of professional learning among colleagues. Witten also models what effective collaboration looks like among teachers, as well as all staff, parent and community members.
She is proactive with students and believes in the principles of restorative justice. Finally, Witten is a creative thinker and effective problem solver – an education and leader that makes a strong contribution to any context she finds herself in.
"Working in the Immanuel Christian School community for the past nine years has been a tremendous joy," said Witten. "I have so valued the school's commitment to quality, Christian education, delivered in an environment that supports student's diversities and strengths. To continue serving the community with a move to the secondary campus is an honour. Schools are most successful when staff, parents and students embrace a common vision, and it excites me to continue to help students 'develop and use their gifts for joyful service in God's kingdom' at Immanuel Christian Secondary School. I look forward to serving and growing with ICSS!"
Prior to assuming the acting vice-principal role at ICSS, Witten was the Teaching for Transformation Lead Teacher at Immanuel Christian Elementary School. Most of her classroom teaching experience has been with the Society for Christian Education in Southern Alberta. ICSS students and school community are fortunate to have her remain at the school on an ongoing basis as one of the school leaders and Classroom Support Teacher.
Witten completed a Bachelor of Arts degree in History from Alliance University College and a Bachelor of Education from the University of Lethbridge. She recently completed her Master of Education Leadership with Dordt University.