Posted on:
5 Reasons You Should Be Teaching Digital Citizenship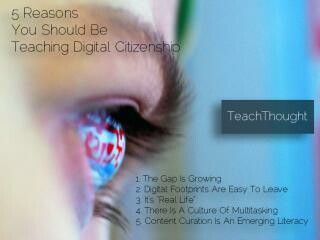 by Paul Barnwell, Teacher of English & Digital Media
Students buzzed about the latest uproar on Instagram. Anonymous sources had posted a "questionable"–and NSFW–list for multiple public schools in our city on Instagram, leading to distraught girls, viral Twitter reactions, and an investigation.
This type of cyberbullying and reckless use of digital communication is rampant among teens, but this recent episode was only unusually due to its elevated publicity.
Every day, I see a student deficit on how to mindfully employ the unbridled potential and power of their smartphones and other digital tools. But who's to blame? Is it the girls who decide to post racy photos or sext people they supposedly trust?
Is it those cruel sources who exploit the images?
Is it parents who purchase smartphones and laptops for their children and fail to set boundaries or teach their kids about responsible use?
Is it the lack of education and discussion in schools about the ways students can be more mindful, responsible users of technology?
A combination, of course.
With many schools now shifting to allow BYOD (bring your own device) at school, combined with a general push for integrating more technology in the classroom, it's obvious that students need to examine the consequences of their online activity–both good and bad. Here are five reasons why schools should take a lead by promoting digital and social media literacies curriculum, and promoting digital citizenship inside and outside of the classroom. Read More