Posted on:
Ouch! You just saw someone being really mean to someone else online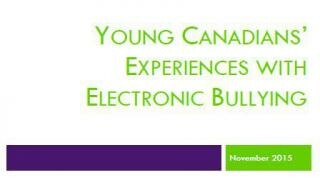 Helping our kids navigate cyberbullying: A parent's guide
Parents play an extremely important role in helping their children successfully navigate cyberbullying.
In fact, according to MediaSmarts' research, parents are the first place kids turn to for help with online meanness, and two thirds of kids say that talking to their parents makes the situation better. In order to support parents so they can help their kids effectively, we've created this guide which is chock full of information on cyberbullying and practical tips to recognize and address this issue in their kids' lives.
http://impact.mediasmarts.ca/en/parents
Additional Resources
Young Canadians' Experiences with Electronic Bullying report
In 2015 TELUS, MediaSmarts and PREVNet partnered on a research study to better understand the relationship between peer intervention and electronic bullying among Canadian youth. The findings from the Young Canadians' Experiences with Electronic Bullying study informed the development the Impact! program resources.